Guests at the HERA House re-opening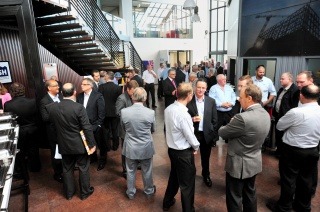 HERA House, home of the New Zealand Heavy Engineering Research Association (HERA), celebrated the re-opening of its refurbished premises, officiated by the Minister for Research and Innovation Hon Steven Joyce. The building's refurbishment coincided with 30 years of service, and the Minister congratulated the Association on the impressive $2m face-lift of the metals engineering industry-owned facility.
Acknowledging HERA's role as an important non-profit private sector [WS1]industry body that acts as the resource centre for New Zealand's metals-based engineering industry, Mr Joyce said that while there are very good CRI and university research entities, it is organisations such as HERA and sister associations like SCNZ (Steel Construction NZ), NASH (National Association for Steel-framed Housing) and Metals New Zealand that play an important role in growing the industries and sectors they represent.
The Heavy Engineering Educational Research Foundation or HEERF is the owner of HERA House.
A key objective of HEERF is to recognise individual and company excellence, and promote the careers and development of the engineering profession associated to the industry. This has been achieved in the funding of awards such as the annual sponsorship of final year student engineering project awards, the industry awards Innovator of the Year and Exporter of the Year, and the most prestigious award the Keith Smith Memorial Award for Distinguished Services to Industry.
HERA Executive Chairman John Frear introduced HERA's mission "to have an internationally competitive New Zealand Metals Engineering Industry. We want HERA to be the catalyst to achieve this through ongoing innovation. Therefore HERA's mission is clearly to assist industry innovation in the provision of research, education, marketing and advocacy functions."
John also introduced HERA's New Zealand Welding Centre, "The Welding Centre focuses on the key technology of metals based fabrication – i.e. welding. This division has its own income stream in the form of a levy on welding consumables, and integrates other weldable metals such stainless steel and aluminium. This is important as many of our industry members use more than one material in their daily operations, and technology support over the entire welding fabrication field is crucial.
"It gives us the confidence that if we are supported by the Government with a level playing field, our industry will be competitive against imports and we will successfully export, as my company does with our tow bars in the international automotive market."