With a high demand in New Zealand for qualified, skilled engineering graduates, Open Polytechnic provides a variety of study pathways to help those working in the industry with professional development.
Flexible distance learning enables students in employment to enhance their careers through on-going learning and upskilling.
Blair Falconer, who is completing his National Certificate in Electrical Engineering (Advanced Trade) this year, says that he decided to study through Open Polytechnic to not only help him grow in his current role, but  also give him the skills to develop into a more senior role as his career progresses.
In his busy position as wind technician and electrician at Meridian Energy's West Wind wind farm in Makara, Wellington, distance learning was the best option for him.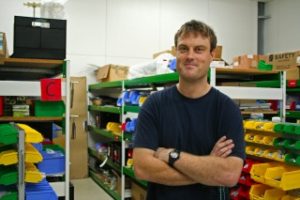 "I don't have to attend class so I have more time and can plan to do study on specific days. It is flexible and I can do it when it suits me, during my lunch breaks or after work," he says.
"I used the online campus for submitting most of my units. It's very easy to use, and if I leave my books at work, I can still access the online learning material from home. The learning material is easy to read, with plenty of diagrams and photos."
Blair is looking to study further, with a solid foundation in Advanced Trade.
"I think the National Certificate in Electrical Engineering (Advanced Trade) is a good taster in a lot of different areas, not just in electrical engineering, you also cover health and safety, drawing, accounting and electrical legislation."
Open Polytechnic Head of School of Engineering, Trades and Construction, Christo Potgieter, says there are many study options for those looking to develop their engineering careers.
As well as the National Certificate in Electrical Engineering (Advanced Trade), Open Polytechnic also offers a New Zealand Diploma in Engineering (Mechanical) and the Bachelor of Engineering Technology.
"Our Bachelor of Engineering Technology is offered with the University of Southern Queensland, where students can gain overseas exposure during their block courses. The degree offers specialisations in Electrical/Electronic, Mechanical, and Civil Engineering."
"Afterwards graduates can work as Technologists all over the world and can be admitted as Engineering Technologists with the Institution of Professional Engineers in New Zealand," says Christo.
For more information about studying Engineering with Open Polytechnic, visit openpolytechnic.ac.nz/engineering or call 0508 865 327 today.