Models in the 'Intelli-Charge' battery charger range offer an adjustable charge rate, including the smaller 7Amp, 10Amp and 15Amp versions, increasing their suitability for use by home, marine, transport and commercial customers, as well as workshop professionals.
Until now, a variable charge rate was only available in the larger 25Amp, 35Amp and 50Amp models, however Projecta engineers have successfully introduced the innovation to the more compact Intelli-Charge variants.
The enhancement enables them to produce a charge rate from as low as 1Amp, delivering optimum and safe charging for all lead acid batteries, while continuing to offer world-class, 7-stage technology and multi-chemistry charging.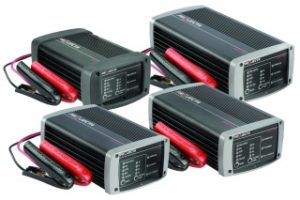 Engineered and designed for use on all types of batteries, including Gel, AGM, Wet and Calcium, these chargers provide an opportunity to have just one charger to meet all needs, ranging from cars, motorbikes, trucks and contracting equipment to ride-on mowers, jet skis, boats etc. By selecting the battery chemistry type, Projecta's Intelli-Charge range adjusts the charge to precisely match the battery, extending battery life and performance.
Intelligent electronics monitoring, coupled with a chemistry-specific charge process, delivers a specific charge that is precisely matched to the battery type, guaranteeing no greater charge than is required and preventing possible damage.
Intelli-Chargers are fully automatic and deliver a comprehensive and accurate charging technique known as 7-stage charging, especially engineered for optimum performance on all types of batteries.
The first two stages, 'De-sulphation' and 'Soft Start' prepare the battery for charging. 'Bulk' then delivers a fast charge followed by 'Absorption', ensuring the battery is fully charged.
The 'Analysis' mode is designed to ensure the battery is fully charged. If the battery fails the 'Analysis' stage the charger will begin to 'Recondition' the battery, testing after each stage up to three times. Once past the 'Analysis' stage, the battery is maintained, ready for use.