The Industry Training Federation (ITF) is marking the announcement that John Blakey, Chief Executive of Competenz, will step down as CEO at the end of the year.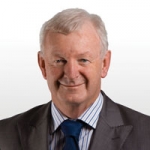 "John has made an outstanding contribution to industry training and vocational education over the last 30 years" ITF Chief Executive Josh Williams says.
As well as leading Industry Training Organisations, John is a former Tertiary Education Commissioner and Industry Training Federation Chair. John is currently a member of the reference group for Labour's Future of Work Commission, discussing the skills and training required for New Zealand's future workforce.
"John has been an unwavering champion for vocational education and training, and a system that genuinely connects learning and work." Josh says.
"John has provided invaluable guidance and leadership to our sector over many years, and we are pleased that John will remain involved in the sector as a Competenz Board member.
"We wish John well for the remainder of his tenure, and also congratulate CEO designate Fiona Kingsford on her appointment." Josh says.