In the picture -From left to right: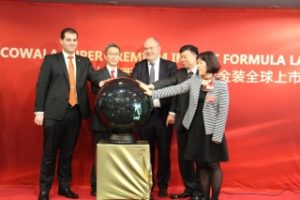 MP Jami-Lee Ross, Evergrande Dairy Chairman Mr Xu Wen, Economic Development Minister Hon Steven Joyce, Economic and Commercial Counsellor of the Chinese Embassy in NZ Mr Zhang Fan and Korea Trade Commission Business Manager Ms Kim Kelly.
The current dairy business climate is both challenging and promising, because regulations on infant formula are still very sticky and unclear.
However, Evergrande Group's investment into GMP Dairy Limited's business has given the company more opportunities.
Evergrande Dairy chairman Mr Xu Wen has mentioned before the group, which had turnover this year of 131.5 billion Chinese Yuan and has 475 billion Chinese Yuan in assets, was attracted to invest in New Zealand because of its strong reputation for food safety.
Evergrande has a large team in China to provide innovative marketing and distributing strategies, which has given GMP Dairy Limited more confidence in developing the China market further.
On the 12th of June, 2015, GMP introduced their premium infant formula brand, Opobaby, at the Aotea Centre, Auckland Town Hall.
Economic Development Minister Hon Steven Joyce, MP Jami-Lee Ross, Economic and Commercial Counsellor of the Chinese Embassy in NZ Mr Zhang Fan, along with Evergrande Dairy Chairman Mr Xu Wen officially launched Cowala Superpremium Opobaby Infant Formula.
Evergrande Group is a massive Chinese conglomerate, which started out in real estate and has diversified into a range of other businesses including fast moving consumer goods.
In October, Evergrande launched its infant formula brand Cowala in China where it made its first appearance in a Chinese Super League football match when the successful Guangzhou Evergrande team, part-owned by Alibaba boss Jack Ma, wore Cowala baby formula-branded shirts. The team officially launched the new Opobaby brand in China after a match late last month.
A unique competitive point of difference for Cowala Infant Formula is the world-first patented traceability technology on the cans that allows consumers to use their smartphones to scan a barcode telling them the milk powder's history. There is even an x-ray picture of the contents.
Further research and development have added another component to the technology – shipping information on every can which should help streamline the process at the Chinese border. Opobaby was a high end product that should appeal to Chinese consumers.
Cowala Infant Formula also has extensive publicity in the local market place such as at Auckland International Airport. This is to raise more awareness of the brand to international travellers and general consumers. A number of Chinese tourists have already noticed and consulted GMP on their distributors.
GMP Dairy is currently working on four to six new productions mainly in their adult milk powder range.
The key markets for the products lay in Japan, Singapore, Russia, Korea, Hong Kong, Taiwan, and China. The Middle East and South East Asia are seen growth markets. GMP has put together a new team to focus on research and development for consumers in these countries.