In the picture (right): EIS Electrical Manager Daryl Cook (left) and Operations Manager Johnny Mauchline (right) review Omron equipment and hardware information after becoming the first South Island based Omron safety systems integrator.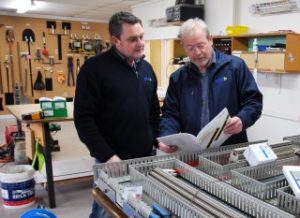 Invercargill based multi-disciplined automation and electrical company EIS has become the first South Island based Omron safety systems integrator.
EIS Operations Manager Johnny Mauchline said the certification is a great accolade for EIS, especially given the fact that there are only two other Omron safety integrators in the country, both based in Auckland.
Omron, which employs approximately 35,000 people worldwide, has more than 80 years' international experience of innovation in the electronics and automation industry.
Mr Mauchline said partnering with such a company means EIS is now fully equipped to deliver affordable, quality and custom made automation Omron control systems and safety solutions to clients with manufacturing and industrial operations.
He sees the certification as well-deserved recognition of the local company's vast experience, capabilities and dedication to health and safety.
"Every day we work with a range of machines across a broad spectrum of industry sectors. We are known for punching above our weight and being driven by health and safety. This certification is another great recognition of that driving factor and the opportunity to offer clients the best combination of resources when required," he said.
Mr Mauchline believes the combination of EIS' on-site inspection, risk assessment and automation systems design and installation expertise pairs well with Omron's ability to specify the equipment and hardware needed to eliminate or mitigate any identified hazards and risk.
"Ultimately it's about working together to improve efficiencies, processes and output for our clients and ensuring their machines and processes are 100 percent safeguarded and compliant," he said.
Dunedin based Omron Senior Technical Sales Representative Peter Watkins said the certification further strengthens the longstanding partnership between EIS and the international Japanese mega company.
"We are proud to have EIS partnering with us within the South Island. This is a relationship between two companies that are extremely experienced and innovative in automation and safety, not only in New Zealand but internationally as well. Together, we can help clients navigate the minefield that is safety legislation," Mr Watkins said.