New high current and 4-20 mA dc current clamps speed troubleshooting through collaboration, regardless of location.
Now added are two new dc current clamps to the Fluke Connect system of wireless test tools: the Fluke a3003 FC Wireless DC Current Clamp and the a3004 FC Wireless DC 4-20 mA Current Clamp. Both fully-functional current clamps can wirelessly send measurements to Fluke Connect enabled master units as well as the Fluke Connect mobile app so users can view measurements from multiple devices simultaneously, review equipment history, and share measurements with other team members for faster troubleshooting.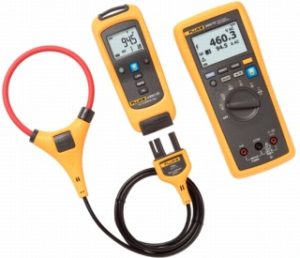 The a3003 FC Wireless DC Current Clamp measures up to 2000 A dc making it ideal for very high dc current measurements typically found in utility and dc machine controller applications. It features a large jaw size (64 mm) for clamping around and measuring on large, high current conductors.
The a3004 FC Wireless DC 4-20mA Current Clamp measures 4 to 20 mA signals without breaking the loop so process control technicians can make accurate measurements without interrupting the workflow. It features a detachable clamp with extension cable for measurements in tight locations.
Both current clamps can record and store up to 65,000 measurements with the logging feature to isolate intermittent events or record fluctuations without even being there.