Health & Safety (H&S) has seen renewed focus in recent years and manufacturers have been adapting to new policy, advancing the safety of their businesses.
Mach 3 Engineering, based out of Christchurch, have worked to put H&S towards the heart of their business, improving their own processes to get achieve better safety outcomes for their staff and using their expertise to offer engineering solutions that can help other manufacturers improve their safety.
Mach 3 is a locally owned business that started in 2007, which manufacturers custom made goods and offers fabrication and engineering services, employing around 20 staff. The team is led by directors Anna and Jeremy Chapman. Anna has been a leading force to better understand how to improve H&S outcomes in their business, seeking out further education in the field.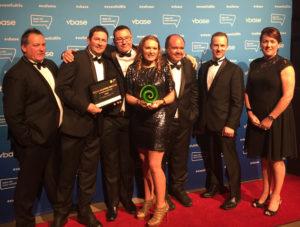 Their work in H&S has even earned them the ACC Workplace Safety Award at the Champion Canterbury Business Awards in 2016.
"We have a diverse range of skills in the business, and we have had to diversify as the economy has changed – for a while, we focused largely on dairy modifications as that sector was going through high growth. The reason we are here is because we diversified our business." Said Anna.
Mach 3 saw these H&S changes coming, highlighted by the Christchurch Earthquakes, and moved their business more in that direction, looking to extend their own knowledge in H&S, while using this to offer solutions to help other businesses.
"The more we learn about H&S and apply it to our business, the more we see it has so much value. You feel better and see positive outcomes knowing you're doing the best you can, and have looked into it."
"It's about changing culture, and it has to start at the top. But it can't be a dictatorship – we consult with our staff and have them feed into the process. Now they are coming up with their own ideas and as time goes on our staff see the benefit. The key is doing what you need to do while also finding ways to make manufacturing processes more user friendly and productive."
"Everyone moves at different speeds and it can be tough early in the process, but at some point everyone does get on board. We did become pickier in terms of our new hires as a result. Overall, all this work has helped our business become more profitable and professional, helping us get more work. " Said Anna.
Mach 3 provide a number of products and services, one being their MachGuarding solutions. This is a custom perimeter fencing and nip point guarding solution that they design and manufacturer to suit each company's needs.
They can use their own knowledge to learn about their customers operations and work with machinery operators to ensure the guarding best suits the operating environment while improving safety and meeting standards. Mach 3 also offer their services to modify and upgrade a company's existing guarding to make sure it meets the new safety standards.
Another product Mach 3 makes is called the Machrac, which is a custom built slider that can be added to Utes, to allow easy unloading and storage – an innovative solution led by Jeremy.
Mach 3 also specialise in customised engineering solutions – they were featured on Grand Designs late last year, showcasing their architectural engineering capabilities using Corten panels and structural steel.
Anna remains passionate about H&S in manufacturing and engineering businesses, and hopes they can work to help other businesses through sharing information and providing quality services.
"I feel we have a responsibly to help others and share information on H&S, just like others who have helped us get to where we are." Said Anna.
If you would like to learn more about Mach 3, and their services and products, visit: mach3.co.nz/