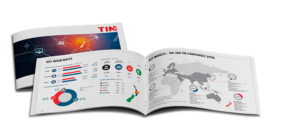 The Technology Investment Network (TIN) Investors Guide has drawn its information from the top 200 New Zealand technology firms. Highlights of the Guide include:
*Revenue growth in 2016 came from Auckland and Northland 12.2%. Hamilton 11.1%. Central North Island 0.9%.Wellington 15.3%.South Island 9.2%.
*An increase of 239% in foreign investment in early stage technology companies.
*Revenue growth of the past year of 12% (over $1B).
*Growth across every New Zealand region.
*Highest growth sectors are FinTech 23.1% and Digital Media 15.9%.
*The New Zealand technology sector contributes 16.2B of national GDP, consisting of 28,749 forms, employing 98,900 workers.
*$6.9B generated in offshore revenues.
*Technology is New Zealand's third largest export sector.
*21% of the companies now have revenues exceeding $50m.
www.nzmanufacturer.co.nz