ARANZ Geo is changing its name to Seequent. The name change and rebrand reflects the company's expansion into a broader range of global industries and markets.
Seequent leads the world in visualisation of complex scientific data. It first introduced its Leapfrog 3D geological modelling software to the mining and minerals industry over 10 years ago. The company has since developed solutions for a wide range of industries including geothermal and renewable energy, civil engineering, and environmental management.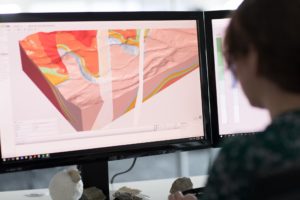 Seequent chief executive Shaun Maloney says the new brand reflects the company's evolving purpose and vision for the future.
"To help our customers succeed we enable better decisions about earth, environment and energy. This is the singular vision for Seequent and it stands above any product, solution or sector. As the world becomes more complex, there is an even greater need for clarity amongst the noise, to see and manage the challenges of today and tomorrow," he says.
The announcement was made at the company's Lyceum innovation event in London, the first in a global roadshow series also visiting Vancouver, Johannesburg, Toronto, Santiago and Perth.
Seequent's solutions turn complexity to clarity by transforming complex data into clear geological understanding. Stakeholders, including geologists and executives, use this understanding to confidently make critical time-sensitive investment and environmental decisions. These decisions bring meaning, extract value, and reduce risk, cost and time.
Seequent is contributing to the modelling, understanding and management of geological risk for some of the biggest earth, environment and energy projects on the planet.
Seequent's rapidly growing global footprint includes offices in Australia, Brazil, Canada, Chile, Denmark, Peru, Russia, South Africa and the UK.
The company has just been named Export Innovator of the Year at the New Zealand Innovation Awards 2017, recognising the global impact of its innovation.