New Zealand's leading wiring and assembly solutions manufacturer says it has a long-term commitment to Samoa and hopes it will lead the way to other New Zealand businesses setting up operation there.
Fero is an Auckland-based family-owned business that manufactures wiring looms for local technology manufacturers, ranging from automotive and marine lighting, to air conditioning units, air quality sensors and aeronautical units.
It is in the process of setting up operations in the premises formerly occupied by Yazaki EDS, which closed recently puttig more than 700 people out of work.
Fero has already signed up 60 former Yazaki employees and plans to employ more once its Samoan operations begin later in the year. The company intends to expand to 200 people over the coming two years.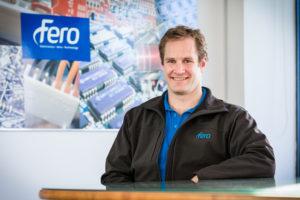 General Manager Sam Fulton says the decision to relocate Fero's off-shore operations from China to Samoa came about after the company analysed its long-term prospects.
"We are always looking for ways of doing things better, faster, cheaper for customers and we want to be known for being relied on to deliver – no matter what the timeframe, quantity or specification. Growing challenges with China were making it increasingly difficult to live up to those promises."
Fero investigated several alternative off-shore options before learning of Yazaki's intended departure from Samoa. It presented the perfect opportunity because, like Fero, Yazaki manufactured wiring looms and also had very high-quality standards and skilled employees.
Mr Fulton says Fero had three major requirements of its new off-shore operation: quality, productivity and minimal impact on its New Zealand management resources.
"Yazaki's premises are perfect for our needs and its employees ticked all three boxes in abundance. Their quality standards were so high that they had gone four years running with zero production defects. Its former employees are therefore extremely knowledgeable, skilled and productive – so much so that I'd be pushed to find any better here in New Zealand. It was a very well-run operation."
Mr Fulton has issued a challenge to other New Zealand businesses, saying many would benefit from shifting their manufacturing from China to Samoa.
"It's the same time zone, English is widely spoken, many Kiwi businesses are already familiar with Pasifika cultures, transit times are a fraction of those from China and it is easily accessible to New Zealand and Australian markets. Furthermore, the Samoan government has been incredibly easy to deal with."
Fero's planned move into Samoa has already caught the attention of other manufacturers around the world, with companies from South Africa, Denmark, Germany and the USA showing interest.
Mr Fulton anticipates that other New Zealand companies could follow suit.
"For years Kiwi businesses have been looking past the Pacific, to Asian off-shore opportunities and in doing so have failed to notice a highly-skilled and well-educated resource right on our own doorstep.
"It's a really exciting opportunity," says Mr Fulton, "for Fero, for Samoa and for other New Zealand businesses too."
Fero's New Zealand operations are based in Mt Wellington, Auckland and currently employs 70 people. Establishing the Samoan operations will not result in any New Zealand job losses.
The company is planning to initiate a mutually beneficial approach for its operations in both countries, for example by planning to establish an exchange programme whereby employees from its Samoan and New Zealand operations can have the opportunity to gain new skills in each other's workplace.
"We're really excited about setting up operations in Samoa and are totally committed to a long-term partnership with this country," says Mr Fulton.
He commented that although Fero could transfer tax from its Samoan operations to New Zealand, it would not be doing so.
"We want to have a true partnership with Samoa, including ensuring that the country benefits from the tax paid on our Samoan operation's earnings."
He said that the company would also look into enabling its Samoan employees to achieve NZ Qualifications Authority unit standards, which would give them internationally-recognised qualifications.