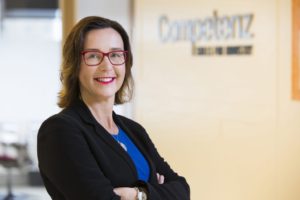 Fiona Kingsford.
"While employers may not be able to protect jobs from automation, we can collectively be responsible for protecting our people and preparing them for change through ongoing training and reskilling."
Ensuring staff have the right skills now and in the future is vital for the sustainability, productivity and global competitiveness of New Zealand's manufacturing industry.
Fiona Kingsford, chief executive of industry training organisation Competenz, says industrial changes, innovations and automation are changing the number and types of jobs in New Zealand and, more critically, the sort of knowledge and skills people in the industry need to develop.
"We know that unqualified and low-skilled positions are predicted to have the highest probability of replacement by computerisation or machines. It's challenging to keep up with the changes, let alone anticipate the workforce requirements to respond.
"While employers may not be able to protect jobs from automation, we can collectively be responsible for protecting our people and preparing them for change through ongoing training and reskilling."
Data from economic research organisation Infometrics shows the manufacturing sector will need to find more than 12,000 people by 2022 to predominantly replace workers who retire or leave. Approximately half of the workforce has no post-school qualification. Training and education are essential for responding to rapidly advancing technology, succession planning and ongoing profitability and competitive advantage.
"Through our ongoing dialogue with businesses, there is concern within the manufacturing sector about the lack of team leaders and tradespeople who possess managerial skills," Kingsford says. "This is highly-relevant to workforce development as research consistently highlights that there is a link between quality of management and the productivity of the business."
Competenz works with more than 3,500 companies around New Zealand and more than 26,000 trainees and apprentices – more than 4,000 of those in the manufacturing sector.
"Working with so many manufacturing firms we gain valuable insight into the workforce challenges people are facing every day," Kingsford says.
"Because we know the sector well, we can design workforce development solutions to help businesses realise both immediate and long-term gains."
Recruit top talent at Emex
Competenz is teaming up with the Manukau Institute of Technology (MIT) to match employers with keen young jobseekers at Emex.
Manufacturing and engineering companies looking for new recruits will be paired up with secondary school pupils and students who have undertaken trades training at MIT.
After a series of six-minute, one-on-one interviews, the employers and students each decide if they want to find out more about each other, and job opportunities may arise.
"If you're looking for new staff, this is a great opportunity to meet talented and motivated young people ready to start their career," Kingsford says.
Eight of the manufacturing qualifications Competenz offers are eligible for the government's new fees-free policy. This means the costs usually paid by employers, apprentices and trainees in the first two years will be now be free for some people.
 Workforce development pays off for DB Breweries
When Melissa Muirhead visited a new high-tech brewery overseas she was astounded by the set-up. "The company had started with a blank sheet of paper and a lot of money, so they were able to design the most efficient brew house and packaging line possible."
It was a different environment to DB Breweries, where Melissa is the Talent and Organisational Development Manager. "Our Waitemata brewery started out in the 1930s as a small wooden building and expanded over time. It's a bit like spaghetti junction with all the conveyer belts everywhere."
But the latest equipment alone did not equal performance – Melissa learned the Waitemata brewery was nearly three times more productive. Why? Because of people.
"If you lose up to half your staff every year, you're going to spend all your time and money training people how to do the basics. Turnover at our Waitemata site is far below average and we develop our people to take their skills to the next level."
DB Breweries works with Competenz to deliver apprenticeships and training in food and beverage processing, health and safety, manufacturing and sales.
"I've always said it's great to have equipment and machines and technology, but if you don't invest in your people, it's a lost opportunity. It had never been so obvious before."