DunedinNZ.com has welcomed 'ED' the chatbot as the newest member of its customer service team, the first destination marketing organisation in New Zealand to adopt this form of Artificial Intelligence technology.
ED will act as an extension of the iSITE visitor centre by assisting website visitors with questions, serving the most relevant information and helping visitors plan their visit. John Christie Director Enterprise Dunedin said the project was another step towards enhancing the user experience and providing a comprehensive and intuitive customer service in the growing online marketplace.
"A good experience during online travel research is a golden opportunity to convert 'dreamers' and 'planners' into visitors to our city. With ED, we wanted to evoke the welcoming spirit and helpful nature of Dunedin's people, which is a key part of our identity.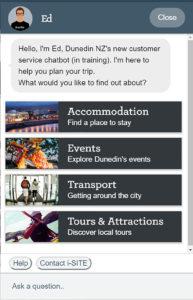 "The process of finding the right 'on brand' persona for ED posed some interesting challenges for the marketing team, but we are really pleased with the result," he said.
Developed by international web technology company Squiz, ED runs on existing DCC web platform, powered by Google's machine learning and natural language processing.
"We know that a percentage of intending visitors prefer to source information using a virtual customer assistant (VCA), and this will grow as VCAs such as chatbots become more common and people get familiar with using them," Squiz NZ Managing Director Patrick FitzGerald said.
"By adopting this emerging technology early, Enterprise Dunedin and Dunedin City Council will gain learnings relevant to further improving customer experience for visitors as well as residents, and to applying Artificial Intelligence more broadly in council services online"
Research firm Gartner recently predicted that 25% of customer service and support operations will integrate virtual customer assistant (VCA) or chatbot technology across engagement channels by 2020.