Ditron staff from left to right:  Giovanni Diamante, Steve Graham, Dave Housley, Mark Clayton.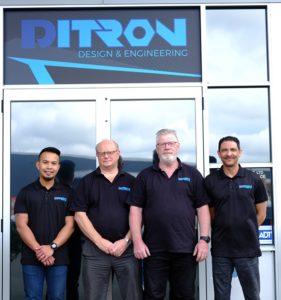 Buteline is a household name in NZ and around the world, which develops and manufactures it's innovative and acclaimed plumbing system used both in domestic and commercial building from its address in Highbrook.
Buteline's absolute commitment to excellence is evident by the outstanding durability that allows its products to be embedded inside building cavities around the world with confidence.
What few people know is that standing alongside Buteline since 1980 is an equally diligent and successful company, Ditron Design & Engineering.
Ditron is solely responsible for independently servicing all R&D, tool manufacture, tech support and product development, engineering and testing for the Buteline Group.
By nature, Buteline polymer and metal fittings have to adhere to very precise tolerances and dimensions across multiple tools. Small variations in quality or consistency can have catastrophic consequences when the product is installed.
As a result, the manufacturing processes behind the tools are critical and this is where skill and technology merge at Ditron.
We asked Ditron's Plastic Tooling engineer Mark Clayton, what are some of the real challenges faced?   –  Apparently most of the inserts are master/final impressions and these inserts have various sizes so being able to accurately model these in CADCAM has been essential.
Tool quality and precision is always at the highest level. Ditron have used ZW3D CADCAM 4-5 axis software for five years to construct and model a CNC machine fixtures to accommodate all the variants in size and form.
ZW3D is used to drive the primary machining centre, a Victor Taichung Vcenter – A72 with 4th axis.
Mark is responsible for taking the IGES and STEP files sent to him for tool development and building the tools around them.
Typical machining will cover materials such as STAVAX, D2, P20, Aluminium HMWPE, Polycarbonate and others.
For Mark, ZW3D has proved "to be really user-friendly with great CADCAM options."
ZW3D is an 'All in One' CADCAM suite and in Mark's own words "The ability to switch from CAD to CAM is so easy and at the touch of a button, easy to modify models and modify CAM programming to suit"
Mark has also found support to be excellent and prompt although these days he seldom needs it.
ZW3D provides Ditron with a very powerful CAD system that can repair and modify any CAD model in the toolroom and move that into CAM and production without crossing software boundaries.
Along with reliable CAM code, Mark notes, ZW3D provides a user level Post editor which is easy to understand and manipulate.
Ditron will continue to upgrade ZW3D annually to receive the benefit of enhancement and performance improvements rolled out each year.
For example, VoluMill support was recently added.
Buteline and Ditron may have been together for 38 years but new things are brewing.
Buteline MD, Llewellyn Picton and his team at Ditron Design & Engineering are now expanding their vision and preparing to open their doors so that other New Zealand manufacturers can access the depth of experience and skill