A new type of 3D Printing technology enabling rapid prototyping of high-resolution microscale structures has been revealed. It all started after a kick-start from KiwiNet to commercialise the technology.
New Zealand microfabrication researchers Andrea Bubendorfer and Andrew Best, the co-inventors of a new way of fabricating very small things with Laminated Resin Printing (LRP), are part of Callaghan Innovation's MicroMaker3D team which launched the new patent pending technology in the US recently.
The team are one of ten selected worldwide for IDTechEx's Santa Clara Launchpad, an initiative showcasing new disruptive and state-of-the art technologies.
Andrea, who leads the microfabrication team at Callaghan Innovation that has created the technology, says: "We're very excited about the potential for this technology to be a game changer in a range of industries from medicine to wearable technology to aerospace. It will create the first opportunity to rapidly prototype a huge range of miniaturised structures from optical slits to miniaturised microwell plates, micromoulds and more.
"Custom sensors are a great example of a niche area we're keen to explore. One high value approach would be to use molecular sensing to functionalise microstructures, so we could rapid prototype devices for detecting insulin concentration, biomarkers, presence of toxic gases or pollutants.
"There are endless possibilities to what we can print – and what is most exciting, though, will be when people start to print things we didn't even know existed", says Andrea.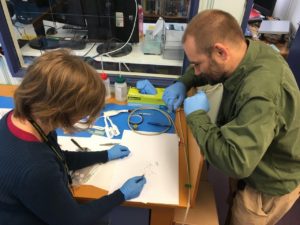 The MicroMaker3D project was kick-started when Andrea received KiwiNet Emerging Innovator Programme funding, commercialisation support and advice to explore ways to make microfabrication more accessible.
"We ended up creating a new 3D printing technology that can build up tiny structures using specially engineered Laminated Resin Printing (LRP) materials. We can print structures with features as small as five microns. To put this in context, a human hair is around 100 microns, so we could print things smaller than we can see."
"We're excited to finally reveal our technology as we are well placed now to talk to businesses wanting a specifically developed solutions to meet their needs based on our platform technology."
Dr James Hutchinson, CEO of KiwiNet says, "There are strong drivers for miniaturisation as smaller devices use less resources, and less power, and are lighter and faster. With the emerging Internet of Things, the ability to 3D print microstructures for tiny sensors will open up a huge new avenue of commercial possibilities. We're very pleased to have supported Andrea and the team on their commercialisation journey to date, and are excited to see them build a base of industry development partners."
Over the last two years since the project started, Andrea and Andrew have also been supported with engineering expertise provided by the Mechatronics Engineers at the Massey University Centre for Additive Manufacturing and the Callaghan Innovation Advanced Engineering team.
Advice and encouragement have also come from Johan Potgieter (Professor of Robotics at Massey University and expert in additive manufacturing) and Olaf Diegel (Professor of Product Development and world renowned 3D printing expert).
The project has attracted a further $684,000 of funding from KiwiNet (PreSeed funding) and has had strong Callaghan Innovation support, as well as other investment interest.
3D printing expert Professor Olaf Diegel, a professor of product development, in the department of design sciences of the faculty of engineering at Lund University, says: "There is a huge need for a 3D printing technology that allows us to make production quality small parts for applications such as microfluidics, micro-electromechanical devices, and precision engineering applications such as micro gears and micro actuators and sensors."
MicroMaker3D project co-leader Andrew Best and Microfabrication Manager at Callaghan Innovation, says: "MicroMaker3D allows companies to get compact high-tech products to market without the normally high manufacturing costs that can become a barrier to innovation. Microfabrication represents a great industry opportunity for New Zealand and exporters around the world, as the value of goods is extremely high, in a tiny form factor, Exporting is no real barrier compared to most products."