Long-time engineering manager Gerard O'Connor has been named as the new managing director (MD) of leading Hamilton-based global process and chemical engineering firm PDV Consultants.
Mr O'Connor has been with the firm for the best part of 22 years and is well-regarded by colleagues, industry peers and clients. "I'm very excited and honoured," says Mr O'Connor. "PDV has been my life for more than two decades and I feel very privileged to be now leading the company."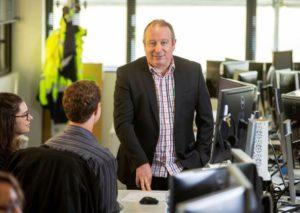 As PDV's former engineering manager for the Asia-Pacific region, Mr O'Connor has successfully designed and managed many large scale client projects in New Zealand, Indonesia, the USA, the UK, Australia and China over the past two decades.
PDV Consultants is a global expert in food processing technologies and systems design, headquartered in Hamilton, New Zealand, with an office in Belfast, Northern Ireland. Many of their projects for global food manufacturers involve spray dryer and evaporation technology.
The company was founded 28 years by David and Anne Platts. The couple have announced their retirement from the firm at the end of November. Mr Platts is stepping down as MD, a role Mr O'Connor will take over on 30th November.
"I'm really pleased that Gerard will be taking on the role," says Mr Platts. "Gerard is very experienced and knows our business well. Under his leadership it'll be business-as-usual."
Since opening in 1990, PDV has grown from two to 25 staff – including 21 in the firm's Alexandra Street headquarters and four international staff based in Ireland.
PDV's team of highly qualified chemical, process and mechanical engineers have delivered projects for clients including Fonterra, Tatua, the Dairy Goat Cooperative, Danone, Glanbia (Ireland and USA), Dairconcepts (USA), First Milk (UK), South West Cheese and more.
Mr O'Connor says that PDV Consulting is a New Zealand success story. "Anne and David have built PDV Consultants – or Platts Drievap Engineering as it was then known – from small beginnings. Today it is a multimillion dollar international consultancy that delivers significant projects to international food and nutraceutical processing industries. It's an amazing achievement, and one they should be proud of."
He says the there is a high level of expertise at the company. "We know that clients trust our ability to design innovative, safe and hygienic systems that are tailored to client and plant requirements. I'm proud of the knowledge, skills, experience and integrity at PDV," says Mr O'Connor.
He says the potential for growth in the industry is exciting. "The New Zealand dairy industry is the global leader and the rest of the world looks to us for the latest technical solutions and systems, which is something PDV delivers on."
Mr O'Connor is a chartered chemical and materials engineer and has also previously worked in the United Kingdom for Novartis and Zeneca Pharmaceuticals after starting his career at Naclo NZ. He qualified from Auckland University and is originally from the Waikato where he was raised on a dairy farm.
He has been a shareholder director in PDV alongside David, Anne and engineering managers Steve Lowe (Engineering Manager – Design and Drafting) and Rodney Lucas (Engineering Manager of Europe).
"We have a strong, collaborative leadership team at PDV," says Mr O'Connor. "I intend to carry on the vision for the company that David and Anne created. PDV has a reputation for excellence, and as a team we will continue to deliver that to clients and honour PDV's core values."
Mr O'Connor said that the company will continue to focus on its core values: teamwork, innovation, fun, integrity and excellence.
In addition, the leadership team has been strengthened by the appointment of Lynn Waters, former group financial controller at Livingstone Building, who has been named PDV's new business manager.
Prior to joining PDV, Mrs Waters was group financial controller at Livingstone Building for more than 10 years. Before that she work at Norris Ward McKinnon as a finance manager. Her daughter Grace Waters works at PDV as an engineer.