This article profiles the business start-up, growth and success of Makaira Boats, owned and managed by Allan Shaw
Allan Shaw started his apprenticeship in 2007 at age 19 at Alloy Yachts in Henderson, Auckland. One of New Zealand's largest and most respected Super yacht builders, the company build large custom sailing and motor yachts and is where Allan served four years in his apprenticeship then one years in his trade.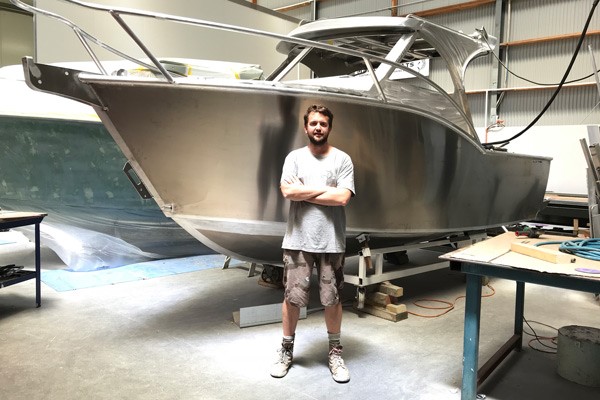 Allan says, "Alloy Yachts was a great place to work and learn from at the time as they had some of the best designers, best manufacturing equipment and boat building tradesmen in the industry."
While at Alloy Yachts in 2012 Allan commenced designing his first boat the Makaira 940 (9.4 metres) which took 5 years.
In 2013 Allan rented commercial premises in Henderson, Auckland and started building two Makaira 940s which he had orders for.
In terms of weight of aluminium materials, a 7 metre Makaira Boat hull requires more than twice the structure of aluminium compared to common brands of 7 metre aluminium boat.
"In terms of labour build time a 7 metre Makaira Boat hull requires more than three times the labour hours to build; it takes approximately 600 hours to build a Makaira compared to an equivalent sized common brand aluminium boat which can take as little as 200 hours to build".
"Weight and build time are the key differences between aluminium boat brands on the NZ market, total quality of both boat types are poles apart.
"At Makaira Boats we build 'heavy plate and heavy engineered' aluminium boats. Another well-known and legendary 'heavy plate and heavy engineered' aluminium boat that has been on the New Zealand market for many years is AMF Boats."
In 2014 Allan purchased commercial land in Keri Keri and designed and built his commercial building for Makaira Boats.
He has worked long hours running three businesses at the same time, including Makaira Boats, Keri Keri engineering and managing 200 local bee hives; and he has saved hard to enable him to full fill his life goal of owning his own commercial boat building premises.
In 2016 Allan invested in advanced boat building machinery, which he remains guarded about. Like many aluminium boat builders in New Zealand, Allan designs his own boats and has invested in house boat CAD file development of his own boat designs.
Allan is firmly of the view that "NZ aluminium boat manufacturers need to move to 'in house CAD file development' to progress their boat designs and their businesses because of several massive advantages. "If anyone wishes to discuss this feel free to call me".
In 2018 Allan invested in tablets for his factory floor, labour management and scheduling software. Since investing in factory tablets and labour software, build times and build cost on each boat has reduced by 30% within 11 months and he is confident that the company will reach 50% reduction in build time and build cost within the next 6 months.
Allan says the advantages of this labour management technology are many and significant including:
30% going onto 50% reduction in build time and build cost per boat, allowing Makaira Boats to be one of the highest quality 'heavy plate and heavy engineered' boats on the market, whilst also being very competitively priced. "This is what all my clients are looking for".
A far more relaxed and in many ways more enjoyable environment in Keri Keri. The pluses for family and staff living in Keri Keri include affordable rent and home prices, far better fishing and diving, a real sense of community, little traffic and free and easy parking. Very good schools, a raft of clubs to join and sporting activities.
"This I believe is what the New Zealand economy requires, to build industries and employment in the regions outside of Auckland".
Allan pays individual factory staff based, on their individual performance, so performance review and wage round is based on accurate numbers and is very objective and fair.
The company has installed 50-inch TV monitors in the factory reporting live times, actual and budgeted time, on each staff members on each job. This way all staff and all management continuously and clearly see the factory staff that are highly productive and those who are not, and which parts of jobs are progressing, and which are not.
"Now we have labour times and labour costs substantially down and maintained at this level we can focus on marketing our boats and export markets".
Overall the business is a lot more stable and well poised for growth in sales and employment of more staff, and hopefully exports in time.
After 10 years in design Allan now has industry leading designs in the Makaira Boats range, Labour costs have been "hammered right down and kept right down" and as a result the business is well poised for growth.
For any engineers looking to get out of the big cities and out of the 'rat race' who want to work in a region where rent is half price and the fishing enormously better phone Allan and he will find a space for good engineers and fabricators.