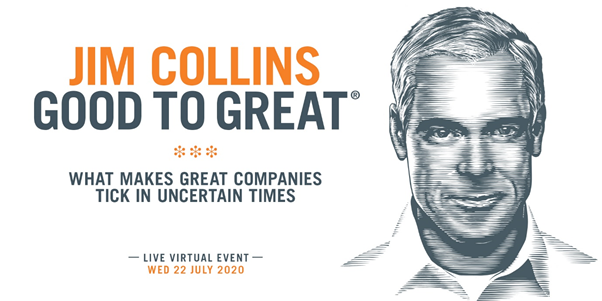 The American Chamber of Commerce NZ is delighted to again partner with the Growth Faculty to invite you to Jim Collins – Good To Great, a live virtual event.

JIM COLLINS, best-selling author and globally revered thought leader will present a powerful and exclusive live virtual event; Good To Great – What Makes Great Companies Tick In Uncertain Times Responding to these highly volatile and unpredictable times, Jim will deep dive into his best-seller Great by Choice which answers the question "Why do some companies thrive in uncertainty, even chaos, and other do not?"

This rare opportunity provides CEOs and their teams unprecedented access to Jim Collins for 2.5 hours of deep learning, allowing time for Q & A on how Jim's concepts apply in these challenging times.


In this highly interactive virtual event you will… ·       Align your leadership team with the greatest thought leader of our time ·       Uncover the leadership behaviours needed in a world overwhelmed by turbulence, disruption and uncertainty ·      
Learn the disciplines required to deal with turmoil and change in your environment ·       Experience live Q & A interaction with Jim Collins   ABOUT JIM COLLINS… Named one of Forbes 100 Greatest Living Business Minds, Jim Collins is a student and teacher of what makes great companies tick, and a Socratic advisor to leaders in the business and social sectors.

Having invested more than a quarter century in rigorous research, he has authored six books that have sold more than 10 million copies worldwide.

Jim's classics include #1 best-seller, Good to Great, Great By Choice, Built To Last, How The Mighty Fall and Turning The Flywheel.   An unmissable opportunity for CEOs, business leaders and lifelong students of Jim's work. Be part of this incredibly rare opportunity to learn directly from Jim Collins. "We cannot predict the future, but we can create it".

JIM COLLINS WEDNESDAY 22nd JULY 2020
Time: 1.00pm to 3.30pm NZ time WORKSHOP FEE – $395 | AMCHAM MEMBERS – $295 or $245 for groups of 10 or more BOOK NOW Please note this is a Growth Faculty event and all bookings, payments and ticket/login info for the event will be managed by them.