-Dr Barbare Nebel, CEO thinkstep – anz
It's good news for local manufacturers: investing in sustainability makes your business more productive. In this article, we look at how sustainability is helping New Zealand manufacturers achieve more with less.
The traditional approach: more productive, less sustainable
Many people view productivity and sustainability as yin and yang – connected, but opposite. Over the past 150 years, productivity has often grown at the expense of the natural environment, people and communities. For example, to increase output, many businesses have depleted natural resources like water and dumped growing amounts of waste in landfills.
On the social side, greater productivity has often meant making people redundant or disrupting communities as factories expanded.
It doesn't have to be like this. Your sustainability programme can make your manufacturing business more productive too.
Today's approach: more sustainable, more productive too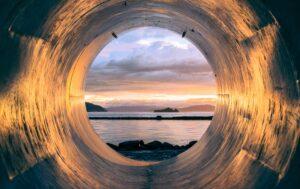 As a manufacturer you know the drill. To increase productivity, you need to generate more output for your inputs. In practical terms, this can mean using your raw materials more efficiently or ensuring your supply chain runs smoothly to avoid outages. In economic terms, it can involve reducing the costs of your inputs and cutting staff turnover. Here are six ways your sustainability programme can boost your productivity too.
Use your raw materials as efficiently as possible
Get more from your raw materials and you'll be more productive. The circular economy is your go-to here. Your aims: to design out waste and pollution, keep products and materials in use and regenerate natural systems.
Food manufacturer Sanford ensures that even low-value parts of its raw materials do not go to waste. Sanford partners with Auckland-based nanotechnology manufacturer, NanoLayr  who use the collagen from the skins of Sanford's sustainably caught hoki to make nanofibre facemasks.
Tackle your carbon emissions and reduce your costs
Reduce your costs and you'll be more productive. Manufacturer Hynds Group makes concrete infrastructure and plastic pipes for the water and wastewater markets. The company is tackling emissions across many areas, including transport, energy, buildings and waste.
This work offers opportunities to reduce costs too. Every litre of fuel saved, kilowatt of power left in the grid and kilogram of waste diverted from landfill saves the manufacturer money.
Get the best from your team
An engaged team is a productive one. Many people want to work for a business that is doing the right thing for communities and the environment. If they can contribute to 'something bigger', they may put in extra effort and offer up ideas. The result: a more productive business.
Bonus: they may stay with your business. Reducing your staff turnover can lift your productivity. You'll reduce the costs of recruiting and training new staff and the time they need to 'get up to speed'.
Ensure your supply chain runs smoothly
Nothing saps productivity like a creaky supply chain. A credible sustainability programme involves working closely with suppliers. For example, you'll work together to reduce the carbon emissions in your supply chain and identify climate-related risks like a flood damaging a supplier's factory. Along the way, you'll strengthen the supply relationships that keep your business productive.
Boost your innovation
Your sustainability work will teach you a lot about your manufacturing business. To make progress you'll need to delve into every part of your organisation. In doing so, you're likely to identify opportunities to work more productively. Some opportunities will be small – tweaks that will make your production processes more efficient.
Other opportunities will be more significant and offer the chance to innovate. For example, circular economy may help you identify new income streams (like Sanford's partnership with NanoLayr – above).
Reduce your risks (and future costs)
Left unmanaged, today's risks are tomorrow's costs and a sure drain on productivity. A well-run sustainability programme offers many opportunities to identify and manage your risks. For example, a science-based Life Cycle Assessment (LCA) will help you reduce environmental risks in your product's life cycle.
Can you change the source of your raw materials to reduce your carbon emissions? Recycle grey water to use less water? Reuse process heat to consume less energy (and create less carbon)?
Investigate risks hidden in your supply chain. Are you 100% sure that you are not inadvertently supporting 'modern slavery'? Modern slavery exploits people for commercial gain. It is a serious global issue and breaches human and labour rights.
So invest in making your business more sustainable. It's a win for your productivity too.