In this episode Laura Air and Emily Svadlenak talk to California-based strategic communications expert Leeza Hoyt. Having worked on a wide range of issues – from the heart-breaking impacts of shootings, to helping corporates navigate some gnarly mishaps – we delve into some of the lessons she's learnt over the years.
We talk about the answers to questions including:
Is there a common thread in managing far-ranging issues?
How to stay calm…or, help clients to retain some sense of calm in the storm?
What role does media training play in times of crisis?
What can Leaders and Boards do to ensure their risk mitigation strategy is ready to roll at a moments' notice?
https://thecontentplace.podbean.com/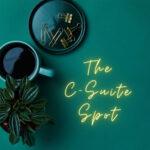 The c-Suite Spot
Leaders. What keeps you up at night? Welcome to the C-Suite Spot, the podcast series that expands the traditional term of what a 'boss' is to tackle some of the most important issues in business from start-up, through step-up, succession planning and scaling a corporate or global business.
https://alexanderpr.co.nz/the-content-place
Leadership can be lonely. In this series we talk with and learn from inspiring leaders from all walks of life, touching on important topics about how to really live, successful business strategies, overcoming challenges, managing an issue or crisis, getting your company structure right and implementing well, making the tough calls, balancing life and work and getting our priorities right.
From business as usual and growing your market to everyday leadership issues or handling 100-year events and everything in between – we aim to provide ongoing inspiration and education and a meeting place for CEOs, founders, management, shareholders and leadership.
You can listen to the podcast on all major platforms including:
Apple: https://podcasts.apple.com/nz/podcast/the-c-suite-spot/id1538676422
Spotify: https://open.spotify.com/show/6fRFUP5qeSeMj8dBCncSAK
iHeart: https://www.iheart.com/podcast/269-the-c-suite-spot-73692882/#