In 1876, Helen Connon was the first woman to enroll in a New Zealand university, graduating in 1880 with a B.A. in Latin, Mathematics, English, French and Physical Science.
By 1897 women had graduated in both medicine and law. But it would be another almost 70 years before a woman would graduate from a New Zealand university with an engineering degree.
Leslie Robertson led the way, graduating with a degree in electrical engineering from University of Canterbury in 1965. By 1981, women still only made up 2.4% of engineering graduates from University of Canterbury, compared with Law 33.7%, medicine 31.8%, and architecture 24.3%.
By the end of the decade, the percentage of women graduating in law and medicine had risen to 50%, but engineering trailed behind at only 7%.
University initiatives
There have been numerous initiatives over the decades to encourage women to consider a career in engineering. In 1989, University of Auckland created the position of Liaison Officer for Women in the Physical Sciences and Engineering, and appointed Liz Godfrey to the role. It was a full-time position and the first of its kind in New Zealand.
Studies looking at women's low participation rates in engineering identified a number of issues. Far fewer girls than boys continued with maths and science subjects to senior high school level; teachers and students had little knowledge of the breadth of career possibilities an engineering degree could offer and did not promote it to their female students; young women did not see engineering as relevant to their lives; and the lack of female role models meant that they could not see themselves represented within the engineering profession.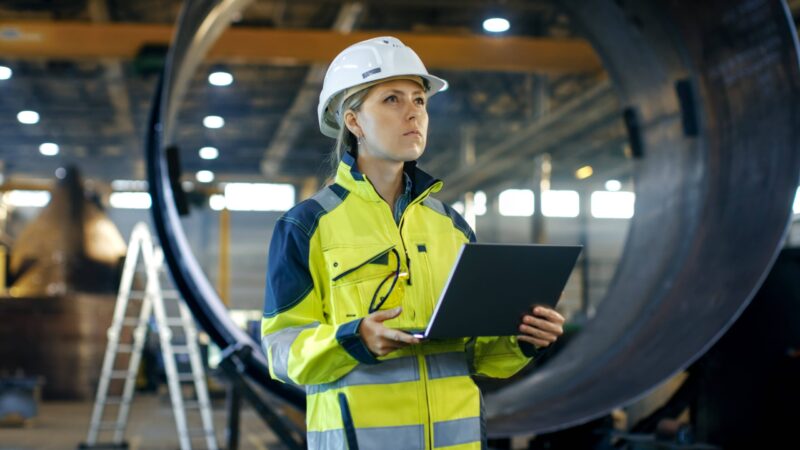 Liz worked closely with schools, and in collaboration with others, developed programmes to promote engineering and science careers to students. SOS – Skills and Opportunities in Science for Girls, was a two-day conference-style course for 12- to 15-year-old girls.
Women working in engineering and science roles led activities that showed the broad range of engineering disciplines and demonstrated how these were relevant to the students' lives.
Enginuity Day was an annual University of Auckland open day for women senior high school students already studying maths, chemistry and physics. It introduced them to the different engineering disciplines and employed current female engineering students as guides and role models.
Liz also supported women students already studying engineering and sciences at the university. Following Auckland's lead, the University of Canterbury established a similar position.
Finding support in engineering groups
Women in Engineering groups were another way universities and women students sought to network and support each other. But this was not always an easy or comfortable means of support for students. Particularly in earlier decades, many women chose not to be involved with initiatives of this kind.
Already uncomfortably visible, they did not want to further set themselves apart and concentrated on just completing the course to the best of their abilities. In choosing engineering, they knew they were entering a man's world and wanted to prove they could make it in this environment.
Women in Engineering groups waxed and waned at Canterbury and Auckland universities depending on the interest and involvement of current students.
The most recent iterations, WEN (Women in Engineering Network) at Auckland, and WiE (Women in Engineering) at Canterbury, were formally established in 1993 and 1999. Both groups work to build connection between students and between students and industry.
Taking an inwards look
If the percentage of women engineering graduates was low, women's membership to IPENZ was even lower. In 1983, IPENZ had 5,500 members. Only 30 were women. A significant culture change was needed.
At the 1988 IPENZ conference, the council adopted three proposals: to promote engineering as a career for women; to promote equal opportunity employment; and to remove sexist language from formal IPENZ documents including the Code of Ethics.
Through the 1980s and 1990s, the IPENZ School Liaison Committee worked to promote engineering as a career for girls. And in the 2010s, IPENZ broadened its focus to supporting women to remain in and advance their engineering career.
Engineering into the future
As of 2018, women made up around 14% of the engineering profession. We still have more work to do, until the profession is representative of the communities it serves. A diverse and equitable engineering profession benefits everyone.
Engineering New Zealand is a founding member of the Diversity Agenda and a Diversity Agenda Accord signatory. The work involved in being part of this collaboration with the Architecture profession ensures that we are held to account, are aware of, and can address any gender imbalances in our workforce.
Engineering New Zealand is currently working on a project to tell the history of women entering the engineering profession in New Zealand and to bring women's voices to the fore through oral history. If you have any info or photos to contribute, please get in touch with Engineering New Zealand Heritage Advisor Cindy Jemmett
–republished from Engineering New Zealand.