Protecting the respiratory health of welders during grinding and welding operations is crucial to ensuring a safe and healthy work environment.
In recent years, there has been a growing demand for respiratory protection that not only offers increased protection, but also enhances comfort and visibility while welding.
These advantages are particularly important within industries that use stainless steel, steel/manganese alloys, aluminium, galvanised steel in their production.
Depending on the process and filler metal used, some welding operations can create more hazardous welding fumes and contaminants than others across industries including mining and mineral processing, oil and gas reticulation sites, plus pipelines and vessels in industries such as water and wastewater and chemical processing, manufacturing, food and beverage processing, and metal fabrication, as well as tanks and vessels involved in bulk materials handling, primary industry, and process engineering.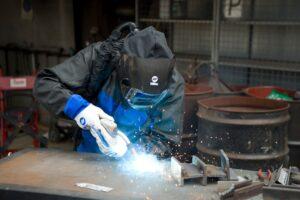 Weldwell New Zealand has addressed this need with its latest innovation, the Miller Vortex HDV powered air purifying respirator (PAPR) System.
Designed to take respiratory protection to the next level, the Miller Vortex HDV PAPR System offers a range of features and exclusive technologies that set it apart from other systems, says Product Manager Aleksandr Koshelyev, who consults extensively with users of welding equipment concerning their industries' particular and evolving needs.
Exclusive Miller technology
The Vortex HDV PAPR system standout is its HDV technology which provides a sharp, detailed view at any angle with minimal distortion. This feature makes it easier for welders to see their work with increased visibility.
Other technologies include:
ClearLight™ 2.0 which offers a second-generation view through the lens, providing advanced high-definition optics for a clearer, brighter, and more realistic weld view.
"X-Mode is another benefit to welding operators. Designed for outdoor usage, it eliminates sunlight interference, as the lens only darkens when the welding operator strikes an arc. Described as game changing it's also ideal for low amp TIG and out-of-position welding."
InfoTrack™ 2.0 technology is also exclusive to Miller, allowing users to track arc time and arc counts, as well as store and switch between two custom preset memory settings.
Stand out features
With comfort and visibility in mind, Miller's Vortex PAPR system includes a lightweight blower unit. Only1362 grams, it provides long-term comfort so that welders can wear it for extended periods without causing strain.
While the large 174 x 126 mm integrated grind shield offers a larger, clear viewing area for grinding and other tasks.
From a productivity perspective, Miller have integrated a quick release one-piece HDV cover lens to simplify lens changes and reduce downtime, and a brighter 2.5 Light State so welders can keep their hood down for improved safety and productivity.
The system provides protection against solid particles, welding fumes and mists, making it an ideal choice to improve safety and reduce health risks associated with grinding and welding operations.
Six air distribution points ensure that the air is evenly distributed, providing maximum cooling and comfort, while the three air speeds allow the operator to control the volume of air to meet their work conditions.
The audible and vibrating alarm increases safety by notifying the user in noisy environments of low battery.
Included in the package are two lithium-ion batteries, one to use and another for charging, eliminating downtime when it's time for a recharge.
Usage of the Vortex HDV PAPR System is easy, thanks to the LCD display that provides an easy-to-read screen for viewing fan speed, current time, and battery level, and a filter timer to remind the welder when it's time for it to be replaced.