From November issue NZ Manufacturer www.nzmanufacturer.co.nz 
"When water is literally on tap in your kitchen, it seems crazy to ship it around the world."
A new startup launched by the founder of NZ's largest regenerative beauty product export business is set to cut the global use of single-use plastic drink bottles by tens of millions every year.
Brianne West stepped down as Ethique CEO earlier this year, a decade after starting the $100 million business in her kitchen as a 24-year-old biochemistry student.
West's new social enterprise aims to take on the $1.44tn beverage market which produces over 583 billion single-use plastic bottles annually, with less than 10% of these recycled.
The new venture will produce concentrated effervescent drink mixers in the shape of a circular tablet which on contact with liquids such as water dissolve to release flavouring. Each 'Incrediball' makes up the equivalent of a 350ml beverage and can be added to both alcoholic and non-alcoholic hot or cold beverages to enhance the taste.
West says the product will be the world's first effervescent drink tab in fully home compostable packaging and could prevent over 10 million single-use bottles from entering the waste stream every year from 2030 and expects this to grow significantly over time.
She says while effervescent concentrates in this form usually require plastic wrapping, they will launch new technology within the tablet to protect the product from moisture before use.
"When water is literally on tap in your kitchen, it seems crazy to ship it around the world.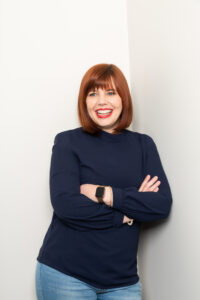 "Incrediballs is designed to address this – we are looking to transform the traditional model under which drinks are sold in their ready-made form by allowing consumers to purchase the flavouring component in a concentrated format that can be added to sparking, still, hot or cold tap water in a reusable container, as well as a wide range of other beverages.
West says mainstream adoption of the product will be essential to making a meaningful environmental impact and the communicating 'green' benefits of the product will not be enough to elicit widespread change by itself.
She says the idea for the business was developed from the recognition that shipping around the world was inherently inefficient and contributing to a growing plastic pollution problem.
"With billions of plastic bottles manufactured every year, we know that our offering will need to have universal appeal to all segments of the market to have any chance at changing an entrenched set of consumption behaviours.
"To achieve this objective the primary focus will be on creating a product with an amazing taste profile that attracts consumers organically.
"We want to make sure the format is convenient as well, allowing people to drop a couple of flavour tabs in their bag as an alternative to carrying a full bottle of liquid to work.
"We recognise that waste reduction benefits will be secondary to many parts of the mainstream market and the product needs to fulfil other consumer needs in order to have downstream environmental outcomes at a global level," she says.
West says they are looking to develop both functional and non-functional concentrates, which may include the use of Manuka, kawakawa and kiwifruit extracts.
"In the first stage, we will introduce a range of flavours that will resonate with the majority of consumers.
"The second stage will see a new line of functional concentrates that have a range of health benefits.
"This might include the use of native New Zealand Manuka for its antibacterial benefits, and essential vitamins, minerals and electrolytes for post-workout recovery for example," she says.
West says the export potential of the product is significant and they expect it to become a $30m business within the next five years.
She says industry feedback from the market has been positive and they have already been approached by local supermarket representatives interested in stocking the product when it launches in April next year.
"Our international distribution channels will be online to begin with as we soft launch the product and get a read on how consumers are responding to the flavours.
"From there we expect to expand quite quickly into FMCG channels in North America, Australia and of course New Zealand," she says.
West says by removing the liquid and packaging components of a beverage, the weight and volume are reduced by over 99% – which helps reduce the carbon footprint of exporting significantly.
"In ready-made flavoured drinks, water can make up 90% of the product's weight. On top of this, plastic packaging represents up to 10%.
"As a result, beverage exporters end up paying to ship their lowest cost ingredient in single-use plastic packaging that is increasingly out of alignment with the evolving needs of environmentally conscious consumers.
"In contrast, the Incrediballs reduce the volume of a shipping container which holds around 68m3 down to just 1m3. In other words, we can ship the equivalent of 100 times as many ready-made drinks in the same size container.
"Despite the reduced size, the export value of this shipment in dollar terms is roughly the same however," she says.
West says the new business will be based in Christchurch and the current team of four staff will expand to over 12 within the first few years of operation.
She says effervescent products are not currently manufactured locally but they are exploring whether that will be possible in the future.