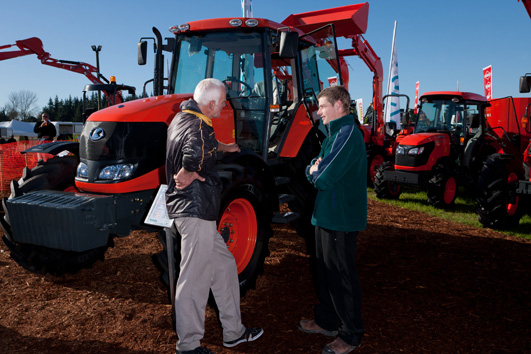 What this growth has done for New Zealand manufacturing achievement – some including joint-international agreements -is nothing short of amazing.
A 'world class'manufacturing showcase of advanced technology and innovative solutions
By Roger Magee
Senior Writer
It has grown, without worthy competition, to become recognised as Australasia's leading 'Agri-Business' Exhibition.- and it is easy to see why.
From humble beginnings at Mystery Creek in 1968, NZ National Agricultural Fieldays "has bloomed as a free-range concept for the benefit of bringing members of New Zealand's primary industries together to introduce and expose new products, achievements and services….and its increasingly vibrant international market connections.
During the 1980's the important open-door trans-Tasman trade policy of CER, brought Australian companies into the exhibitor fold and since then even more companies from other countries, keen to cash in on its now highly ranked business profile among the top five exhibitions of its kind in the world.
What this growth has done for New Zealand manufacturing achievement – some including jointÊinternational agreements -Êis nothing short of amazing.
Progress, particularly through research and development in science and technical innovation has rapidly advanced New Zealand's highly valued primary industry profile.
Last monthÊ (June) Wayne Mapp, NZ Minister of Research, Science and Technology, re-affirmed major government reforms aimed at the science and innovation spectrum, with millions of dollars being directed into fundamental research, development and technical innovation… and with that…the special focus this year on linking science and business practice in an innovative growth partnership.
The future of this combined asset for New Zealand enterprise appears to be firmly in place.
Innovative technology
To look at the early beginnings at Mystery Creek,in the 1960's this once humble stage for agriculture, business and industry promotion (near the banks of the wondrous Waikato River)  is no longer recognisable.
By the time the four-day NZ National Agricultural Fieldays event opens its doors each June, this modern all-year-round  events centre becomes a veritable city with its 1000 exhibitors and many thousands of visitors(122,350 this year), keen to be part of one of the world's largest showcase exhibitions of its kind.
Among the wealth of product exhibits and inspirational insights into new solutions for effective farming and rural land practices the simple cattle prodder is still proudly on show; so are the achievements of this country's indisputable leadership in fencing technique including that good old rural Kiwi icon .No 8 wire;…both memorable successes in their own right.
But today, the creative manufacturing base aligned to primary industries in this country, knows no boundaries.
Design and technical excellence of inspired new products keep coming to the fore.
Farm vehicles and appliances for multiple tasks, stock control and handling methods, automated control units, tools, feeding solutions, irrigationÉ.are just a few of the many diverse areas where innovative technology and a professional manufacturing base exists.
It is hardly insignificant that this year's four-day event recorded a trade turnover of $7.5m, and poured $130m back into the local regional economy (Waikato/Bay of Plenty).
Not too bad for a non-profit 'innovative' organisation..and certainly substantial hallmark achievements for positive economic growth, industry leadership and confidence…outside the square!

Tertiary leadership
One of the notable features of NZ National Agricultural Fieldays in modern times is the growing awareness of research and development support backing manufacturing techniques that will ensure our primary industries a firm base on which to grow and move forward in the future.
In particular the high profile presence of the Universities of Waikato, Massey and Lincoln -our three major study centres engaged in offering rural industry and advanced tertiary courses. ..
Their vital focus on research and development strategies, and scholarship studies (from genetics to hi-tech product design and manufacture), underpin the powerful connection between this country's leading technology focus and modern land practices.
Similarly an advisory booth organised by NZ ITO, reinforced the openings for education and technical training opportunities in these callings.
For New Zealand's primary industries and their manufacturing support base it will be of interest in the future to observe the real power of international relationships, such as membership of NASTA (North America Farm Show Association) and also the new industry welcome mat from China.
A Chinese delegation at Mystery Creek this year was happy to invite future New Zealand involvement at the high profile and hi-tech Yangling Agricultural ShowÊin Shaanxi Province, an event that attracts 200,000 visitors per day!
Regardless of the source of inspiration  there's plenty of evidence to prove that the high respect accorded to the principles of  Kiwi know-how/can do! with professional results  are well and truly here to stay.
Certainly this year's organisation and supporters can be well proud of their marketing call for  2010…" Innovation for future profit."