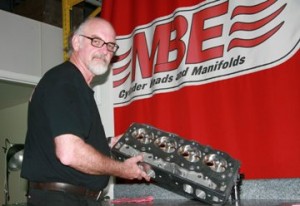 'Power Through Precision' is the company motto at MBE Cylinder Heads and Manifolds.  MBE achieves both precision and power by using Delcam's PowerSHAPE design software and its PowerMILL machining program.  To see how, watch the Delcam TV video on https://www.delcam.tv/delcam-video.asp?VideoId=79. 
Founded in 1997 by Matt Bieneman, MBE is located in the heart of America's racing country in Mooresville, North Carolina.  Mr. Bienenman created a team of specialists hand-picked from the best in the industry and was equally particular about his selection of equipment and software.  The resulting levels of quality and technical innovation have made MBE a trusted choice for leading race teams and engine builders throughout the United States, Australia and Canada.  Customers include teams from dirt racing and drag racing, as well as competitors in tractor- and truck-pulling events.
Just like the race cars, trucks and other custom vehicles he helps build, MBE's head programmer Mark Olson says what makes the company's Delcam products winners is their power.  "It amazes me what the Delcam programs can do," he admitted.  "I've used a lot of programs in my career (which began in 1970) and this is the smartest software that I've ever used."
"We do a lot of manual work to develop the shape of the manifold," explained Mr. Olson.   "Once we are happy with the design, we digitize the ports, chambers and whatever else needs to be machined, and we import the data into PowerSHAPE."
"PowerSHAPE has a great, powerful surfacing engine," said Mr. Olson.  "I haven't yet found anything as good as PowerSHAPE to manipulate surface data into exactly the shapes that I need." After perfecting the model in PowerSHAPE, Mr. Olson moves his design easily and flawlessly into PowerMILL.  The transparent interface between PowerMILL and PowerSHAPE is a big benefit. 
 "You can cut and paste geometry from one program to another very quickly without conventional importing and exporting," he stated.
"PowerMILL has a very powerful automatic porting routine," Mr. Olson said.  "This was one of the major reasons why we purchased it.  PowerMILL keeps the edge of the tool in contact with the port as opposed to the tip of the tool. Cutting with the edge of the tool gives you much better surface finish."
Another feature Mr. Olson likes about PowerMILL is the way it 'sees' the model when it is creating toolpaths.  Despite clearances as little as 15/1000ths of an inch, Mr. Olson says he's never had any interference or a collision using PowerMILL.  "No matter how complex the shape, I can be confident it will cut the port right first time," he claimed.
"Without our Delcam software, it would have been very hard for us to take on some of the projects we've completed recently,"concluded MBE owner Matt Bieneman.  "Our relationship with Delcam makes us feel like they're part of our company."
nextSTEP
Contact: chris@camplex.co.nz