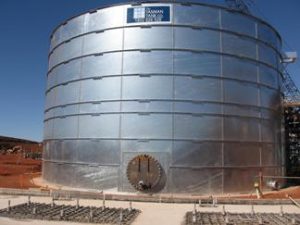 The current debate about the best construction materials and technologies for big industrial and municipal liquid storage tanks is not new.
Ever since lead in wine and water was blamed for contributing to madness and the decline of the Roman Empire, planners have been very careful about where they store and process both potable water and high purity liquids for human and industrial use.
And while the ancient Romans may have contributed to their own downfall by consuming 1- 5 litres of wine a day, by many accounts, there is little doubt that lead did leach into their tipple as it was simmered slowly in the lead-lined pots or kettles of the time. Lead may also have polluted the water supply from pipes delivering it to and from the springs, rivers, aquaducts and castellum aquae, the central reservoir at the highest point of cities such as Pompeii.
Skip forward a few thousand years and it is possible that, with today's storage technologies, emperors such as Tiberius, Caligula, Nero and Claudius may have been much healthier individuals than those depicted by history (particularly in the case of Claudius) as suffering disturbed speech, weak limbs, slobbering and fits of excessive inappropriate laughter.
Because big storage and industrial process tanks today are, by and large, light years ahead of the standards of even a couple of generations ago, in terms of hygiene for human consumption and cleanliness for high-tech industrial processes that demand utmost purity for storage of the liquids used in them. 
These very important industrial applications including zero discharge processes, which are vital to a host of major industries extending from mining, resources and energy to food and beverage manufacturing and the recycling of industrial waste to deliver biogas  to help power the business and reduce its carbon footprint.
The premier material for such applications is undoubtedly bolted steel tanks, which will hold upwards of 10, 20 or even 30,000 tons of liquid, says the Tasman Tank company, which builds more than 200 such structures a year in Australia and New Zealand. Bolted steel tanks have steadily overtaken alternatives such as concrete because they won't leak, they are less expensive to build in the first place, they are cheaper and easier to maintain and typically outlast alternative materials anyway. And their huge range of high-tech liners won't react with the contents they protect.
Another major factor giving impetus to the adoption of bolted construction throughout Australasia is suitability and speed in remote and climatically challenging areas. Bolted site construction allows for control of all quality processes in good or bad weather. It is not subject to uncontrolled factors from outside influences, which (in the case of concrete) can impact upon mixtures specifications and joint connections.
Speed of construction is also a major factor in markets such as mining and petroleum resources, where companies may have billions invested in production, accommodation and fire protection facilities they want to get in place as soon as possible so as to generate their return on investment. 
The basic needs of many applications will be cost-efficiently met by versatile bolted steel designs incorporating an internal membrane liner. Wall sheet material from The Tasman Tank Co., for example, can range from Galvabond, hot dip galvanized steel to stainless steel. Internal membrane liners include PVC, Aeon, Butyl rubber, Polypropylene or Strongline. Roofs – where required – are designed to AS/NZS1170.2 include monoclad steel, long-life zinc-aluminium and aluminium.
But not all steel tanks are the same
At the technically demanding end of the market, major changes in steel tank design are being driven by the demands of technologies involving the zero discharge applications mentioned earlier, which are vital to major industries, as well as environmental and production imperatives.
These technically demanding but increasingly common applications like biogas production, involving vacuum and pressure requirements benefit from advanced coatings with the ability to contain diverse liquids and which will not impact the contents over time (compared with concrete, for example).
It is in these demanding applications that bonded coating systems  – such as those developed by the internationally respected Tank Connection group and Akzo Nobel, the world's largest powder coat supplier – are particularly suited to totally sealed applications where all the liquids involved in a process are retained on-site.
Such applications can include digestion methane capture, biogas capture, biological membrane reactor, anaerobic and aerobic processes, ultrafiltration and demineralised water. A wide range of tanks can be involved in a process system – (Bulk storage tanks, intake tanks, floatation tanks, filtration tanks, mixing tanks, balance tanks, disinfection tanks, detention tanks, settling tanks to name just a few among dozens).
As a leading Australasian tank producer – delivering more than 200 large structures a year – Tasman are firm believers in bonded coatings such as Tank Connection's ultimate fusion coated tank system its new generation proprietary LIQ Fusion 7000 FBE internal coating. This is approved for potable drinking water with NSF-61 international Standard approval. It is unmatched compared with all bolted and welded tank linings.
LIQ Fusion is designed as a replacement for glass/porcelain enamel coatings, utilizing the protective properties of an exclusive FBE "powder on powder' fused to substrate and the external Fusion 5000 FBE has an additional topcoat of SD Polyester.
It is designed to outperform earlier systems several times over, with extended warranties on potable water storage. Performance with other industrial liquids and wastewater is just as outstanding.
And get an independent engineering assessment.
A final piece of advice to companies seeking the optimum performance and durability from their tank is – get the specs and calc's checked by an independent engineering authority.
At Tasman Tanks all calculations are checked by third party engineers. Each Tasman Tank is certified to all relevant codes, with independent engineers providing verification of specifications and performance.
Further, the company's project management policies and structures – including quality management, environmental and OH and S systems – are regularly reviewed by an external auditor to ensure adherence with government and industry regulations.
Tasman recognise that all industries are different and that it is a great benefit to the customer to have the independent reassurance of someone familiar with their industry. A quality tank supplier won't object to having their designs verified. If it does worry a supplier to have their specifications verified, then it is probably time for the customer to be worried too!
nexSTEP
Contact: david@tasmantanks.com.au