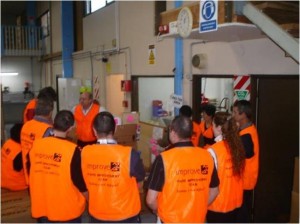 According to www.stats.govt.nz approximately half of NZ manufacturers have less than 50 FTE employees and one in five manufacturers employ less than 10 people. These companies underpin the NZ economy but are they benefiting from Lean thinking?
Owners and / or managers of SMEs who believe that their company has more potential than it is currently realising might benefit from undertaking a lean program.
Lean thinking can be used to generate cost reductions, or gain improvements in lead time and delivery performance.
Applying lean thinking might also highlight opportunities to reduce inventory in order to free cash and fuel further growth.
However, for SMEs companies, "going lean' can be particularly challenging and improvement efforts are often put on the back burner due to unresolved implementation questions such as:
Will the tools be effective here?
 Will I get buy-in?
Will the benefits exceed the costs
So how does the smaller manufacturer get started on the continuous improvement journey?
One route is to consider a government subsidised Public Program in Competitive Manufacturing. 
Public CM programs are typically aimed at individuals with organisational accountability for continuous performance improvement. These courses introduce best practice continuous improvement methodologies from the world's leading organisations.
The emphasis of a good quality CM program is on 'learning by doing' and knowledge sharing with other course participants and the assessment of learning is based around the implementation of workplace projects.
On a public diploma level CM program the participant can expect to learn many technical aspects of a lean implementation including:
How to map their own value stream and use this to identify wastes
The importance of a balanced scorecard and application for their own company
The 'best practice'approach to reducing changeover times
How to apply 'Just In Time' to their own workplace
How to manage a 5S system
How to implement a special improvement event
How to facilitate culture improvement
Public CM Diploma Programs are typically spread over a 12 month period which means that the pace of learning is manageable and success is more likely. The timing also gives the participant an opportunity to build an ongoing relationship with the program leader and industry peers on their own journey.
The effectiveness of these programs to deliver significant and sustainable benefits to the NZ manufacturer has prompted NZMEA to launch their own public CM program with their partner of choice, The Improve Group.
This program is aimed at New Zealand's manufacturing base and will be particularly interesting to small and mid-sized companies.
nextSTEP
Visit https://www.mea.org.nz and click through to events