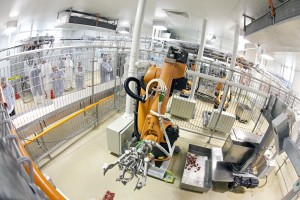 From humble beginnings almost 100 years ago, Scott Technology has evolved into a publicly listed automation business, and a world leader in several niche markets.
Located in Dunedin, this specialist engineering firm is investing heavily in R&D to support new product development and its expansion into new export markets, says Managing Director Chris Hopkins.
Today the company operates in several sectors, however its main success has traditionally been in the appliance industry, where it designs and builds automated production lines for the world's leading whitegoods manufacturers.
"Over the past several years we have also invested heavily in research and development in the meat industry and in other areas of our business. This has seen our international revenue grow dramatically and our opportunities and potential increase significantly," says Mr Hopkins
"Our extensive R&D programme in the meat processing side of the business means we now have 11 patents either pending or granted, plus international trademarks and design copyrights.
"This R&D has produced technology that is aimed at large volume lamb and beef processors within New Zealand and Australia. Our innovations potentially can offer significant value to customers in automating what to date has largely been a manual process. We have few competitors in this new field of automation and robotics within the boning room of our major customers."
In the mining market, Scott Technology has developed a small range of standalone equipment used by on-site mine labs and commercial labs as part of the sample preparation process. More recently it has leveraged off its automation expertise to expand further into providing automated systems that process samples ready for analysis.
In the industrial automation side of the business Scott partners with companies to take on the role of their in-house engineering department to design and build automation or production solutions.
nextSTEP
Visit:www.scott.co.nz