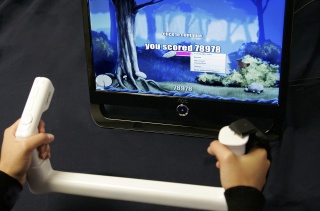 A computer game-based arm rehabilitation device developed by IRL has won first prize in the prototype category of the 2010 Engineers Australia, College of Biomedical Engineering Better Technology Awards.
Led by Research Engineer Marcus King the device, called Able-X, was developed by IRL's Assistive Devices Team in Christchurch and is being commercialised through Wellington-based partner company Im-Able.
"It was a very special feeling to be recognised in front of the large group of scientific peers for excellence in the field that the conference was based around," says Marcus King.
"This award gives credibility to our research and shows that we are leading the way in rehabilitation science – an essential requirement for securing future funding."
The winning entry comprises a suite ofÊspecially designed computer games with a bilateral exercise device that allows a person with an arm disability resulting from neurological injury to exercise their arm while playing engaging games.
In collaboration with Christchurch-based companies Stickmen Studios and Pukka Design Studio, Marcus developed the device whichÊis suitable for people across a range of disabilities, from severely paralysed to almost able-bodied. The system has shown very promising results in clinical trials by the Rehabilitative Exercise and Activity for Life Neurology Research Group at the University of Otago. "We're getting significant movement benefits fromÊmanyÊof the people who have taken part in the trials," says Marcus King. "We've had reports that people who have one paralysed arm and have been having to drive their car single-handedly can now use both hands on the steering wheel at once."
The Able-X is the first product to be prototyped for production, with a market release planned for late 2010. It incorporates an inertial sensor game consol developed by Taiwan-based IRL collaborator the Industrial Technology Research Institute (ITRI) and enables a bilateral exercise regime to be created.
The award was presented at the recent Australian Rehabilitation and Assistive Technology Association's National Conference in Hobart, at which Marcus presented a paperÊon the Able-X system.
nextSTEP
Contact: Marcus King, Research Engineer, Industrial Research Ltd
m.king@irl.cri.nz