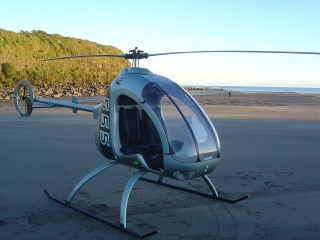 Ultra Helicopters vision is to have a minimum of 75 % of the parts manufactured here in NZ for a 2 seat helicopter.
Due to its composite construction it will fall into the microlight category which is a first for NZ.
The company is currently working with CAA to get Type approval and once that is completed we wtll be actively demonstrating it to various flying clubs/ schools and other events.
This will be our main market focus initially followed by private individuals.
Overseas the market is huge, ranging from Tuna boats, to highway patrol, surveillance work, private boats, training schools etc.
Once the CAA approves the machine here the Australians will probably follow suit. and then the FAA in the US.
The advantages of having it in the microlight class are the operating costs, turbine time as standard on the license which can be partially transferred to a PPL later, only a microlight medical required . It also has one of the best power to weight ratios of any 2 seat helicopter.
The high inertia blades also make auto rotations safe and easy to perform.
Key changes with regards to composite pieces are, for example, with the tailboom where a huge reduction in parts will be possible with an increase in strength and a reduction in weight, The backbone will also have seatbelt hardpoints rated at 16 G's and landing bow and engine mounts rated at 10g's, this is the same as a commercial helicopter and previously unheard of in the microlight class.
After some brainstorming some clever thinking has resulted in the reduction of other parts, this has resulted in considerable time saved for assembly.
Having a helicopter manufactured here in NZ has a certain appeal to it
nextSTEP
Visit: www.ultrasporthelicopters.com