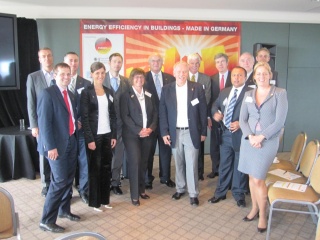 Energy efficiency in buildings was the topic of the day for just on 100 participants at the one day conference organised by the New Zealand German Business Association in early November. Experts from Germany were in attendance and took the opportunity to explore expansion opportunities in New Zealand and Australia.
The conference, part of the Energy Efficiency Export Initiative funded by the German government, had experts from both countries discussing the burning issues of the sector. Trends, policies and future perspectives on the use of energy efficiency in buildings were the main topics.
Germany is Europe's leading market for green building technologies. The government is actively promoting the swift development and integration of renewable and efficient heating and cooling technologies with new laws and attractive incentives.
"The visit of key players in the German energy efficiency sector, with New Zealand businesses at the one day conference in Auckland, reconfirms the serious interest Germany has in New Zealand," says NZ German Business Association CEO, Monique Surges, who hosted the conference. She highlighted the positive news coming out of Germany regarding economic recovery, providing a solid base for doing business.
Dr. Hartmut Grewe, coordinator for energy and climate policy at the Konrad Adenauer Stiftung, Berlin, gave an overview of the political framework and new energy concepts. The German government intends to reduce CO2 emissions by 270 million metric tons by 2020, and further promote the consumption of energy produced from renewable sources.
Buildings account for over 40 percent of German energy consumption; 75 percent of which is used for heating purposes. "There are three approaches to increase energy efficiency in buildings", he explained; "Regulatory policy, financial support and promotion." Although Germany plays a leading role when it comes to energy efficiency, the topic has to be seen on a broader scale. "We have to depart from the notion that we can act on a national scale", Grewe said. "Many decisions are made in Brussels and the effects are global."
Dr. Olaf Boettcher , Commissioner for Energy in Federal Buildings, added some best practice examples from Germany's building sector. The German Government has started a number of initiatives to reduce the energy demand in buildings at an early stage. Boettcher referred to the so-called energy saving act, which is updated on a regular basis. "From 2010 each building has to comply to a standard of energy efficiency", he explained.
In the pilot project "Zero Energy Building" the energy demand is totally covered by renewable energy. Boettcher discussed in detail the project stating that, improvement of energy efficiency of buildings does not cause higher costs. "The decisions in the planning process are most important for cost reductions", he said.
New Zealand is very different," Nigel Isaacs, Principal Scientist at BRANZ, said. "We do things differently in this part of the world. New Zealand houses are strange, leaky and bitterly cold," he quipped. Two research projects focussing on how energy is used in residential households and commercial buildings give proof to his tongue in cheek remarks.
In New Zealand, electricity is the major source of energy used to warm a house. Electricity is used widely and carelessly. The supply is regarded as green, clean and cheap. However, unlike Germany where all rooms are warm during winter, it is usually only one room in traditional Kiwi households that is heated.
"A consistently warm home is regarded a luxury in New Zealand", agreed Christian Hoerning, senior technical advisor buildings at EECA.
He pointed out, that two thirds of kiwi houses are poorly insulated. New Zealand has one of the highest rates of respiratory illness in the OECD, a high mortality during the winter months and associated mental health issues due to this situation. "The living conditions are not terribly good", he said.
But this is about to change. "New Zealanders are warming up to the idea of a comfortable home", he continued. The popularity of heat pumps has taken off and insulation and double-glazing are more on people's minds. Nigel Isaacs confirmed this with research results: "The average temperature in our bedrooms has risen from 13,5 to 14,5 degree", he remarked.
"New Zealand needs improvement when it comes to energy efficiency. First and foremost we need more information," Hoerning said. The government is going to tackle this issue with better information about energy choices, enhancing business competitiveness through energy efficiency and focus on warm, dry and energy efficient homes. "The government is helping consumers and businesses actively," concluded the EECA advisor. "There are good opportunities to bring new practices and technologies to New Zealand."  Hoerning encouraged the participating companies from Germany to seek out potential partnerships with the New Zealand government and industry organisations.
The representatives of the trade delegation had the opportunity to introduce their businesses and describe their business goals to the audience. The New Zealand German Business Association organized a number of one-on-one meetings between the German company representatives and pre-selected New Zealand business partners.
Besides researchers, government and industry representatives, architects and builders had the opportunity to present the latest trends of their sectors at the conference.
Carolin Jahn, scientific staff member at the Institute for Building and Solar Technology in Braunschweig, Germany, talked about modern architectural approaches in Germany and the advantages of energy efficient buildings Professor Uwe Rieger, a German teaching at the University of Auckland as an Associate Professor for Design and Design Technology, gave an insight into his research on the adaption of the Passive House concept to the New Zealand climate.
Developed in 1995 in Darmstadt, Germany, the passive house is based on four principles: a compact building shape, three layers, thermal bridge free construction and ventilation. Advantages of the passive house are indoor environmental quality, healthy living conditions, durability of construction and low energy consumption.
Dion Cowley, Green Star Certification Manager at the New Zealand Green Building Council, talked about the green star rating system, which gives the consumer a good indication of levels of achievement regarding energy efficiency.
The New Zealand Green Building Council is an industry organisation dedicated to accelerating the development and adoption of market-based green building practices. They set standards of best practice through the adaptation of environmental rating systems for buildings.
Cowley showed advantages of modern green buildings and surprised the audience by explaining that "building green" is not necessarily more expensive. "Green building is not as scary as you think", he said. "It is on average just 2 percent more expensive. And if you plan at an early stage carefully, it is in the 1 percent range", he promised.
-By Doris Evans