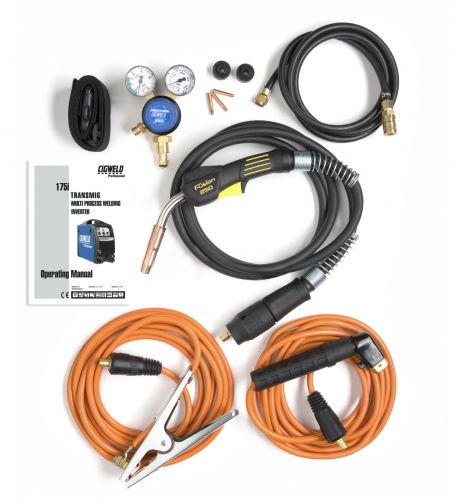 The Cigweld Transmig 175i is a self contained single phase multi process welding inverter that is capable of performing GMAW/FCAW (Mig), MMAW (Stick) and GTAW (Lift Tig) welding processes. The unit is equipped with an integrated wire feed unit, voltage reduction device (VRD applicable in stick mode only), digital voltage and amperage meters, and a host of other features in to fully satisfy the broad operating needs of the modern welding professional.
It features:
Full multi process capabilities: GMAW/FCAW (MIG), MMAW (STICK), GTAW (TIG)
Standards Compliant Voltage Reduction device (VRD)
Fully compliant to AS 60974.1
Digital voltage and amperage meters
Enclosure rated to IP23S
3 Year Limited Warrant
Specifications
Supply Voltage            240 volt, 1 phase 50/60 Hz
Supply plug lead        15 amp
Welding current range        10 – 175 amps
Duty Cycle            175 amps @ 25% duty cycle (Mig)
175 amps @ 20% duty cycle (Stick)
175 amps @ 25% duty cycle (Tig)
Power source weight        14.6 kg : Plant 23 kg
Dimensions            H460mm x W320mm x D590mm
Plant contents:
Transmig 175i inverter power Source, Tweco Fusion Mig Gun (3M), Comet Professional Argon regulator/flow meter, Feed rolls 0.6/0.8 V groove (fitted) , 1.0/1.2mm U groove; 0.8/0.9 V Knurled, Contact tips: 0.8mm fitted, 0.6mm, 0.9mm, 1.0mm, Electrode holder with 4m lead, Work clamp with 4m lead, Shielding gas hose assembly, Shoulder strap , Product bag and operating manual.
NextSTEP
Contact: ken-durbin@thermadyne.com.au