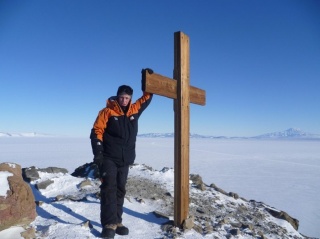 Right now you can follow the adventures of 20 year-old Joel McGregor of Oamaru, who is undertaking one of the most extreme general engineering apprenticeship opportunities in the world – living and working on Scott Base in Antarctica.
The position calls for an apprentice to work as a 'Summer Engineer' at Scott Base, to become an integral part of the engineering group supporting New Zealand's activities in Antarctica.
The role includes general fabrication, machining and mechanical fitting work as an integral member of the maintenance crew onsite at the base, but also requires creativity to design and build ad-hoc items required by the team.
Joel won the role after a being put forward by his Competenz-ATNZ account manager, Murray Welsh, and he passed with 'flying colours' after extensive interviews and testing with ATNZ and his seconding employers, Antarctica New Zealand.
"I spent three weeks training in Christchurch, and then my first week down here on the ice to prepare for the conditions," says Joel.
He admits his first impressions of Antarctica had him totally 'gob-smacked'.
"I've never seen so much snow in my life, you think you're in a dream because it's unlike anywhere else in the world – it's like I'm on another planet!"
Joel has learnt to brave the -24 degree weather and is starting to get into a good working and learning routine with his fellow engineers.
"A normal day's work for me starts at 8.00am with a workshop meeting to plan the day's activities, and then we head off to do our tasks and checks, and fabricate objects anyone may want or need."
nextSTEP
Visit: Facebook, log in and search for 'The Antarctic Apprentice' fan page -click the 'Like' button to become a fan, and follow Joel's experience today!