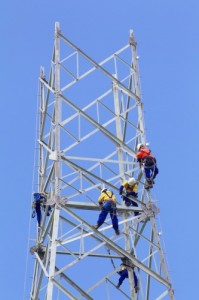 Picture:Transpower NIGUP Alliance tower crews erecting towers in the Waikato
Observant Hamilton commuters may have noticed an increase in white Hilux utes on the road in the past 18 months.
Rural drivers will have spotted transmission towers dotting across the landscape between Clevedon and Whakamaru.
Both are evidence of New Zealand's largest energy infrastructure project since the 1960s taking shape on HamiltonÕs doorstep.
The North Island Grid Upgrade Project (NIGUP), which will create a new transmission line through heartland Waikato, has reached its halfway milestone this month with 213 towers erected.
The line is expected to be finished by mid-2012. It will traverse 186km and cross 318 properties. The 426 transmission towers will initially run at 220kV but is built to operate at 400kV as New ZealandÕs appetite for electricity grows.
When it is completed, the $824 million dollar project will secure supply and meet an increasing demand for electricity in Auckland and the upper North Island. Local industry can also rest easy, as the new line will release the pressure points on the existing local system and give us more capacity for growth.
And there are benefits for the Waikato economy too.
Transpower NIGUP Alliance Project Manager Ian Ditchfield said from the outset the project was determined to shift the economic benefit to the Waikato economy through employment and resources.
"This was always going to be a local project for local people. Our aim was to use Waikato people on the job. It made sense. They know the area and the people, theyÕre well connected and incredibly resourceful," he said.
The project employs more than 300 people, including sub contractors, and will swell to more than 400, at the end of the year when the wires are put on the line what's known as 'stringing' in the trade.
Over a period of three years the construction of the new line is expected to spend over $180million dollars, most of which will have a direct economic benefit back into the local economy.
Hamilton economic development leader Sandra Perry, of Opportunity Hamilton, said the project had a two-pronged positive impact on Waikato's economy, by providing hundreds of jobs for locals and paving the way for wide-spread economic growth.