PICTURE  CAPTION : Operator Lawrence Dunn, checks a product post-production.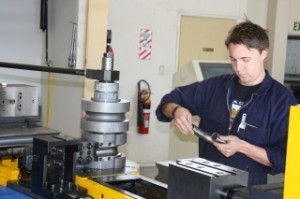 Rex Upton's Christchurch company, Autobend, has 30 years experience in exhausts and mandrel tube bending.
The company is big in the business of replacement exhausts, universal mufflers, headers, big bore, extensions, U Bends, tube, flanges, converters, studs and gaskets; you name it, Autobend stock the lot.
However, if you are an architect, design engineer, developer, kinetic artist, dairyman or wine, boat or furniture maker. Autobend's clarion-call is: 'don't weld it; bend it.'
You should be dropping by at their Andromeda Crescent premises and stepping into a spotless, engineering shop where their blue-and-yellow brute has recently been installed.
It is New Zealand's biggest mandrel tube-bender, the CSM 100TBRE-RBE, courtesy of Autobend.
And they've backed that significant investment with a smart, young engineer, one of their own James Patterson, a production manager, who joined them since gaining NZCE
James has alongside him an experienced and highly-qualified CNC machine operator and a 'master of the black art of 'adjustment' in a precise business', Lawrence Dunn, also blessed with experienced hands and not that many 'miles on his clock' who has just returned from his OE.
You get the sense they are up for anything which isn't dangerous or dumb. Anything from 1-180 degrees (the latter has a u-bend in it).
The CSM bender is world class technology, offering high-precision bending and rolling of tubes, supported throughout by an internal mandrel – a series of inter-connected metal 'balls' of a matching diameter – and a carriage boost. This results in an absence of humps, bumps and wrinkles, or any elongation of bend.
According to Patterson, Autobend staff can programme variable radii (when rolling tubes) or produce straight and concentric coils, with CNC precision, as well as repeat bending and rolling to the original specifications. Furthermore, the five axis, CNC-controlled bender has the latest software for fast and efficient programming, with data being entered using an XYZ table or co-ordinates from clients' CAD drawings (or a similar file).
"Most importantly, the twin-stack tooling allows two different CLR bends; or bending plus rolling into one tube – making it the only mandrel bender/roller machine in NZ with this capability. This opens up huge creative options.
"We can bend a range of materials, including EWS mild steel, stainless steel and aluminium. WeÕve also purchased a large inventory of tooling to cover round, square and oval tubes for both jobbing work and the production of stock bends," says Patterson, who is clearly enjoying the variety of tasks they have been challenged with already – handrails, works of art, decorative balconies, centrifugal and complex liquid distribution systems, Snorkel components, and more.
And just in case you think this is all a bit too much Hollywood for you, the direct clamping capability of the new machine, provides the ability to bend a variety of aluminium profiles, such as window frames, on dedicated tooling.
Patterson again: "All tubes have 'spring-back' when bent. So we've installed a tube-measuring table which can scan a pipe, be it a sample, or the first tube off the machine, and then make correct adjustments for spring-back and elongation.
"The degree of bend – the distance between straights, tube-stretch and spring-back – can all vary from the tooling set-up and material, so we carry a full-range of tubing in stock. This also allows us to guarantee the finished pipe will fit correctly, while providing a printout of the dimensions for the client's QA department, if required."
Patterson reckons this is a cost-effective solution for 'one-off' jobs, prototypes or runs of 1,000 units, with CNC precision and accuracy.
"The four-metre 'over mandrel' bed allows multiple bends/rolls, thereby reducing welding, which, in turn, improves efficiency and profitability for clients.
"Over the years, Autobend has saved customers thousands of dollars in reduced scrap thanks to less welding, precision fitment, specialist knowledge; as well as bending and rolling of the same tube. Try us."