Scott Machinery was there.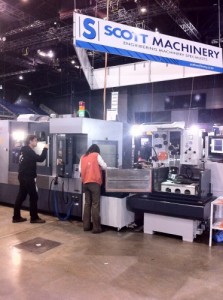 By Doug Green
Some made it through, some didn't. But by all accords some good business was done at SouthMACH 2011, held recently in Christchurch.
A worthy effort by the show organisers, Hayley Media who had already delayed the show because of the earthquakes only to see the snow come down and the weather pack up during the time SouthMACH 2011 was held.
With snow all around, and then black ice the true spirit of the Kiwi businessperson couldn't be kept away. They turned up to see the engineering equipment and services on display and to ensure their company was 'on track'.
Chris Whittington, from Camplex NZ was happy with the quality of business enquiries, as was Francis Coutinho, general manager of Chevpac.
One exhibitor who finally got there through the snow was Gordon Anderson of BayCad. After a delay and overnight stay in Kaikoura, Gordon rolled on down to Christchurch. He found enquiries for his products a bit thin on the ground.
Laura Dolphin, marketing manager for Velocity Trade said "SouthMACH 2011 was good and I am confident the efforts will pay off."
Carr Group of Auckland was one of the unfortunate companies who couldn't make it because of the lousy weather. Their truck full of equipment was held up in the snow somewhere south of Waipukurau in Hawkes Bay and their flights from Auckland so staff could man the stand was cancelled three times.
I commend the exhibitors for supporting the show and their on-going commitment to business in Christchurch in these awkward times.