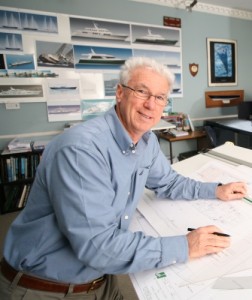 Renowned superyacht and performance sailing yacht designer Ron Holland will be lecturing in The University of Auckland's new masters programme in yacht engineering.
The Master of Engineering Studies in Yacht Engineering, offered by the Yacht Research Unit based in the Faculty of Engineering, is believed to be the first yacht engineering masters degree in the world.
Mr Holland, who is widely regarded as one of the world's most influential yacht designers, has been involved with the yacht design industry for 37 years. The Ireland-based yacht designer, who was born and raised in New Zealand, has design studios in Kinsale, Ireland, and in Vancouver, Canada.
Director of the Yacht Research Unit Professor Richard Flay says Mr Holland will be taking six lectures focused on the practical aspects of running a yacht design business.
"Ron will be lecturing on how to deal with the business side of the industry including how to set up a yacht-design business, and how to work with the client to achieve a successful outcome.
"We are incredibly fortunate to have Mr Holland involved in the masters programme. He's won numerous awards and been responsible for many innovations within the yacht design industry in the past three decades," says Professor Flay.
Professor Flay says the one-year programme provides students with technical, engineering, economic, and regulatory knowledge.
"The masters degree is for students who are looking to work as designers or research engineers in the yacht and small craft industry, or the high performance yacht racing sector."
The University launched the Masters in Engineering Studies in Yacht Engineering at the 4th High Performance Yacht Design Conference in Auckland this month, hosted by the Yacht Research Unit, and the Royal Institution of Naval Architects (NZ branch). The conference coincided with the Auckland stop-over of the 2011-2012 Volvo Ocean Race.