For many years the flooring industry has turned to Permabond for specialist and cost effective solutions in the manufacture of their products.
Permabond has a specially formulated high purity cyanoacrylate which can be used to bond a wide range of substrates that may be difficult to bond with general purpose ÒSupergluesÓ. This makes it particularly suitable for bonding natural rubber, butyl rubber and EPDM.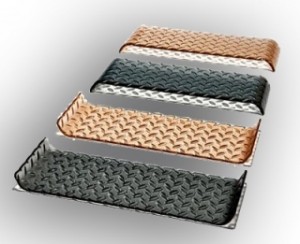 It is ideal for bonding rubber matting sections together and edges onto matting and provides a long lasting, durable high strength bond.
Permabond also has a general purpose cyanoacrylate which has successfully been used for bonding carpet strips onto aluminium entrance mats and carpet squares to moulded plastic entrance mats in heavy wear and tear areas, preventing the carpet pieces from lifting up and helping to avoid trip hazards.
For more specialised applications, a high-strength structural acrylic adhesive, which is a two part non-mix product, is used for bonding aluminium stair nosings. It can also be used for bonding blind bumps onto ceramic tiles in public buildings.
All these Permabond products are rapid curing and easy to use for a quick and easy production process. Products are solvent free and have excellent chemical and temperature resistance.
nextSTEP
Contact Homersham Ltd Tel: 0800 659 888 or 03 358 8309