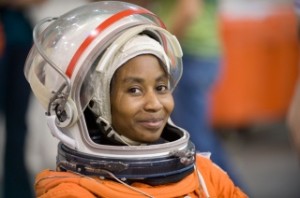 NASA astronaut Stephanie D. Wilson, a veteran of three space flights who has logged more than 42 days in space, will be making her next touchdown at this yearÕs eighth New Zealand International Science Festival taking place in Dunedin, from 30 June to 8 July 2012.
Wilson was selected by NASA in April 1996 and, after completing two years of training and evaluation, qualified for her first flight assignment as a mission specialist.
Festival director Chris Green says that having a NASA astronaut attend the 2012 festival is a "dream come true":
"At some stage of your life, you imagine what it would be like to be a NASA astronaut and travel into space. Festival attendees will be able to hear first hand from Stephanie what being an astronaut is all about Ð from the rigorous training it takes to become an astronaut to what they eat when they are on a space mission. We are really excited to secure her attendance for 2012."
In keeping with the festival theme of 'what makes us tick?', Stephanie Wilson will be involved in workshops for kids, a family fun quiz night, presentations in Wall Street Mall on the fourth of July (United States Independence Day) and a evening presentation open to the public.
Originally from Boston, Massachusetts, Wilson completed her education at Harvard University, graduating with a Bachelor of Science degree in engineering science. She went on to gain a Master of Science in aerospace engineering from the University of Texas in 1992.
Wilson was initially assigned technical duties in NASA's Astronaut Office Space Station Operations Branch working with space station payload displays and procedures. She then served in the Astronaut Office CAPCOM Branch, working in mission control as a prime communicator with on-orbit crews.
Following her work in mission control, Wilson was assigned technical duties in the Astronaut Office Shuttle Operations Branch involving the main engines, external tanks and solid rocket boosters on flights for the space shuttle programme. She went on to become an astronaut herself, forming part of a team on three return space flights, STS-121 in 2006, STS-120 in 2007, and STS-131 in 2010.
Details regarding festival ticket sales and other visiting experts are yet to be announced.