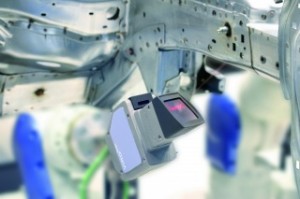 Modern machine tools run at such a speed during machining that the auxiliary times, e.g., loading and unloading, are becoming increasingly important for total performance.
Robots are providing the needed acceleration here. Various robot manufacturers are presenting such solutions and can record substantial growth in this segment.
In addition to speeding up work, the link between robot systems and machine tools can also enable completely automatic operation without the involvement of people.
Two concepts are above all being pursued for automating tool machines: on one hand, the integration of a robot into the machine tool, and on the other hand the complete automation module including robot on the machine.
Robust robots work in machine tools
New robot concepts are available for integration of robots in machine tools that can cope with the adverse ambient operating conditions of shavings, grinding dust, coolants and other corrosive media.
Teams of robots and machine vision systems also contribute to the efficiency of automation "behind" machine tools.For example, they handle tasks of quality control, but also take care of further processing and finishing of workpieces.
CNC machining is also more widespread, in which inexpensive robot solutions take the place of expensive 5-axis CNC machines.
To this end, manufacturers have developed the stability in robots required for machining the hardest materials. Servo stabilisers are mounted on individual robot axes in part to accomplish this. They promise reproducible machining, during which the required dimensional tolerances are maintained. In addition, improved control technologies are provided, which are based on CNC-controlled movement planning.
Machine vision monitors aluminium weld seams
Together, robots and industrial machine vision are providing increasingly more optimised positioning solutions, for example for welding operations.
Quality inspections of weld seams are becoming increasingly more precise and faster, thanks to machine vision.
This task has already been handled reliably for workpieces made of steel for quite some time. Now, new technologies are making it possible to monitor weld seams of the optically more demanding material aluminium, which is also becoming increasingly important due to the lightweight construction trend.
Because extreme reflections and dark deposits are customary, optical sensors were previously unable to handle this task.
Finishing is being automated
The tasks of machine vision with weld seams go beyond the simple decision "IO" or "NIO". The sensors can even detect the type, extent and location of the welding defect precisely in the meantime and consequently provide completely automated finishing. To that end, different sensor systems and highly complex evaluation systems are combined.
Surface inspection is important not just from aesthetic viewpoints, but also from functional ones. Surface defects on cylinder head gaskets can result in breakdowns later, for example.
Machine vision provides complex inspection systems for this with special test software, customised lighting and high-resolution line-scanning cameras.
In addition, image sensors are becoming increasingly mobile. They can simply be mounted on robots and equipped with robot-capable gigabit Ethernet lines, which can cope with high stress on one hand and on the other hand provide higher transfer rates.