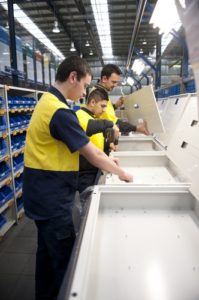 Concept Express is the combination of 'NHP Drawing Express', a software tool that enables the user to instantly design a distribution board from a website, and a new manufacturing line that employs a direct connection to the software tool and uses lean manufacturing methodology to achieve incredible results.
With Concept Express, a staff member is capable of entering a website where they can design the distribution board for their customer by indicating all of the components that are required and more importantly, how they are to be connected.
Drawings include General Arrangement, Schematic and Bill of Material details and within minutes of completing this simple process, made easier by a user friendly interface and an easy to follow step by step process, an automatic drawing is generated and sent directly to the staff member via email, which can then be forwarded on to their customer.
With a simple click of a button, this drawing can be turned into an order for manufacture by sending the manufacturing information directly to the manufacturing line, thus enabling the distribution board to be manufactured within 48 hours of clicking that button.
With a short shipping time from Australia to nearby destinations, such as New Zealand, customers are able to obtain a distribution board faster than ever before.
This is a first of its kind panelboard ordering solution that revolutionises the way panelboards are ordered in the industrial electrical industry!
The Drawing Express technology was developed in order to decrease the drawing lead time from 5-7 working days to a matter of minutes, while completely eliminating any potential human error.
In order to satisfy customer demand for fast distribution board manufacture, the next logical step was to create a new dedicated manufacturing line capable of direct communication to the technology to remove the steps in between an order being placed and the start of manufacture. This reduces the average lead time of order-to-delivery for a distribution board from 20 working days down to 48 hours.
Another important advantage of the Concept Express tool is that it is also compatible for use via a tablet device (such as an iPad) which delivers the same result and also provides an 'on-demand' drawing that can be viewed on the particular device. Since the launch of Concept Express in June this year, the response has been overwhelmingly positive.
Concept Express is an exciting development in switch board assembly. It combines modern manufacturing processes and principles to deliver a quality product in exceptionally short lead times. It can be used to directly place an order for a distribution board, used as a reference for a particular design, it can be used on the road by our reps, and it can even be used for tendering by sending an example of a drawing with the quote.
A range of features and benefits soon to be added to Concept Express include external lighting control, accessory modules, MOD6, locking off devices, and many more, there is no better time to take advantage of this fantastic resource and experience the difference today.