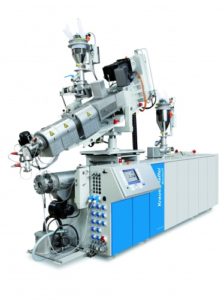 The KMD 53 K/P completes a series of conical twin-screw extruders for the medium output range. The parallel twin-screw extruders can extrude profile cores and outer layers with a mix of virgin and recycled resin plus fillers.
The machine combinations are ideally suited to window profiles based on their core technology, layer technology and combination technology. The machines are designed to manufacture a premium quality end product using cost-effective raw materials.
Processors are increasing their use of fillers for the production of the unseen profile core, which is covered by a thin external layer of a new colourfast material. They are also utilising dry blends from materials with a low additive proportion, but a high filler proportion.
Depending on the output of the individual layers, a coextruder can be used both to process the core layer and top layer. The process concept of parallel and twin-screw extruders ensures optimum melt homogeneity and permits the processing of different formulations with only one screw geometry.
The screws are molybdenum-plated and can provide active wear resistance when combined with the deep nitride barrels, are ideally suited for processing recyclables and dry blends with high filler proportions which are very abrasive.