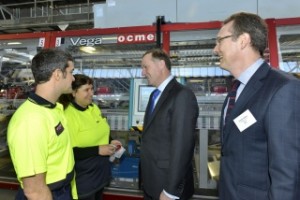 OCME S.r.l. from Parma Italy, a world leader in packaging, filling, handling and palletising systems for the beverage and consumer products industries, were acknowledged at the recent official opening of Coca Cola Amatil's upgrade of their Auckland plant.
OCME in collaboration with their local partner HBM, supplied a VEGA HT70 and Vega HT 60 Shrink Wrapper and Tray Packer, two Gemimi N70, a Gemini S50 combined.Wrap-Around Case Packers – Shrink Wrappers and other conveying equipment were part of the NZ$50M upgrade of manufacturing facilities within the Auckland and Christchurch plants.
Present were Prime Minister John Key and Coca-Cola Amatil Managing Director George Adams.