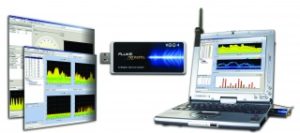 Fluke Networks has announced a new remote analysis capability for its portable wireless LAN (WLAN) tools, making them the first to enable both real-time troubleshooting and spectrum analysis of remote wireless networks.
This lets organisations with remote sites that do not need WIDS/WIPS 24/7 monitoring to resolve connectivity and interference problems, identify rogue devices and detect security violations without having to make expensive site visits.
The analyser not only helps customers avoid site visits, it also reduces productivity losses that affect an entire organisation while they work to fix a problem or issue.
The remote analyser solution is comprised of AirMagnet WiFi Analyser PRO 10.0, AirMagnet Spectrum XT 3.5.1 and AirMagnet Series Sensors. Sensors can be deployed to remote sites and then be monitored via WiFi Analyser PRO or Spectrum XT at a control site.