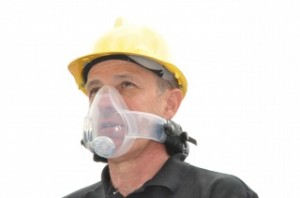 The face of personal breathing devices in the workshop is changing with the launch of the small and light powered respirator, the PAFtec CleanSpace.
The state of the art motorised facemask is accredited to Australian Standard AS/NZ1716, offering minimum 99% filtration efficiency for particles of 0.3µm and above.
The respirator combines comfort, mobility, high protection and style for use in professional, industrial and urban environments. It has all the convenience of a low profile passive mask while offering the wearer the benefits of comfort of a powered respirator.
The product has applications in the welding, smelting and pharmaceutical sectors as well as mineral exploration, food manufacturing, construction, woodworking, emergency services, heavy industry, open cut mining and agriculture.
Designed without hoses or cables, the PAFtec features low-profile, highly effective filtering technology which is easily mounted around the neck allowing for use