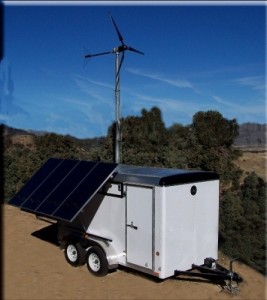 The Solar Power Generators, have developed a mobile generator for industrial use that is powered 100% by solar energy.
This unit is available as a 12,000 Watt single phase 240V ac Sinewave or 3 phase 440V ac at 3,000 Watts / 3-phase power unit.
It is mounted on an 8×5 aluminium trailer with a wind turbine for simple transport to any site or for relocation as needed.
The unit is designed to facilitate the use of welding machines, power tools, cooking facilities, lights or most general plug-in equipment used in work associated with factories and processing plants.
It includes 10 batteries, of varying special types, 12 special type solar panels, 4×3000 watt inverters, a custom-built trailer, electric breaks, various electrical components, many internal parts and wiring, trailer registration, construction and assembly labour.