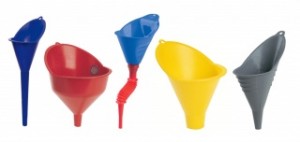 Ever tried to top up oil in a hard-to-reach filler opening in your car and spilt it all over the engine? Then you'll appreciate the new range of FloTool funnels that offer easy ways to re-fill oil, fuel or any other liquids around cars, trucks and boats.
FloTool has designed a range of funnels that cover a variety of applications and turn a possible messy task into a clean and quick job.
Ordinary funnels often don't do the job properly because they won't stand up in opening or cannot reach it properly or they are too small and the oil/fuel overflows Ð thatÕs when you need a smart funnel designed specifically for the job.
Rather than just expect one funnel to do different tasks, FloTool has created a variety of funnels, most designed with specific jobs in mind.
For instance, there's the Tight Spot Funnel, which is made from flexible material so that it can be squeezed to fit into places ordinary funnels won't go. Or there's the Multi-Task 5-in-1 Funnel that that a flexible spout that can bend in several direction and is designed to securely hold a 1-litre container of oil/fluid without it falling.
Other interesting funnels include:
* Giant Funnel – designed especially for pouring large containers of fluid/fuel, to avoid spills
* Super Quick Fill Funnel – specially designed for economy sized containers it has a large diameter and extra wide neck for quick pouring
* Utility Funnel – ideal for hard-to-reach places with its flexible spout, it also has special hand-holds to provide a better grip
* Gas Gauge Funnel – this one's great for use in a lawn mower fuel tank because it has an indicator that signals when the petrol is nearing the top, thus preventing spills and over-fills
* Measu-Funnel – this patented device has a long spout that is measured markings and an on/off device so you can pre-pour precise amounts of oil/liquid before it goes into the engine etc
Many of the FloTool funnels have in-built splash guards that make the job easier and keeps the engine or vehicle cleaner. They are also constructed from high quality materials that are resistant to attack from chemicals, fuel and oil.
The FloTool range of funnels is available from hardware and automotive outlets throughout New Zealand and prices for simple funnels start from just $4.25.