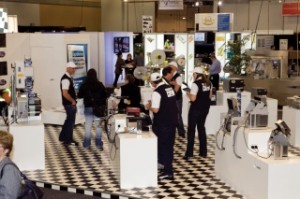 With Foodtech Packtech 2012 almost here, those in the food and packaging sectors are gearing up to show the country just how strong the industry is. Event organiser XPO says that this year's will be the biggest for some time, and will be a sell-out.
Held every two years, Foodtech Packtech is New Zealand's premier event for the food & beverage technology and the packaging technology industries. It attracts top exhibitors from all over the world, and visits from thousands of those working in food, beverages and related services.
This year, there's also the exciting addition of NZ Food Innovation stand.
"This is a mega 200 square metre stand and is all about innovation," says Dave Pooch. "There you will find people wanting to help you innovate, examples of innovative New Zealand food processing companies and NZ Food Awards as well, all sponsored by ATEED (Auckland Tourism Events Economic Development).
"The FoodBowl, Auckland's new food innovation centre will have their friendly people there to tell you about how their magnificent high tech facilities can help you grow your food processing business. The FoodBowl has already helped establish new companies and new products. For a confidential discussion about your needs, talk to them on the stand. Also available is Food Innovation Waikato, which has a brand new pilot-size spray drier.
"They are very knowledgeable about spray drying and are keen to work in with companies who have an interest in the process. Food Pilot Palmerston North has Massey University's food processing pilot plant available for commercial trial work. With a wide range of both sophisticated and conventional equipment, these facilities can save you a lot of development time and money.
"Also on the NZ Food Innovation stand will be leading food companies Emacadamia, Heilala Vanilla, Fruzo, Totally Devoted, Flihydrate, Foodinc and McFoodies."
Another attraction is the free seminar series, this year including sessions that cover business services and maximising profitability, innovative packaging solutions, food safety, packaging compliance, quality control, customer trends, new food categories, and a look at some new science from universities around the country.
Endorsement from the Packaging Council of New Zealand, the New Zealand Institute of Food Science and Technology, and Plastics New Zealand shows the importance of the three-day Foodtech Packtech 2012 to the industry.
With the NZ Food Awards (www.foodawards.co.nz) running alongside on Thursday 27th September, you have to be, as one 2010 visitor commented, 'mad to miss it'.
Foodtech Packtech is a trade-only event with free entry for those who register online at www.foodtechpacktech.co.nz.
One lucky visitor will win a $65,000 Ford Territory TS AWD vehicle just by having their visitor badge scanned at the Ford stand. Foodtech Packtech is on at the ASB Showgrounds in Auckland from 25 to 27 September.