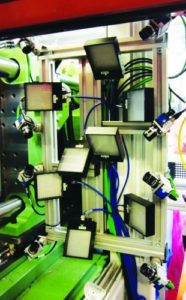 The IML Watcher Inspection machine is a quality control system for In-Mould Labelling of injection moulded and blow moulded products, particularly for decorated parts such as bottles, cups, lids and pails.
The system can be integrated seamlessly into the automation robot of most injection moulding machines, therefore supporting the fastest cycle times and is used to detect typical errors relating to the IML process such as label offset, angular rotation, print errors, label identification, back injection mouldings and holes.
The IML Watcher is equipped with a minimal number of cameras and special lighting units that inspect multiple cavity products at very high speeds with excellent accuracy and repeatability. Scrap rates are minimized by the accurate ejection of defective parts from the line and alarm trending software.
The machine can check other types of labels such as wrapped, glued or base labels, even when they come in a 'no-label look' style.
The machine can inspect up to 10 objects per second with a simultaneous shot evaluation.