Chief Manufacturing Executive, Peter Sutton, and long standing employee Neville Wyatt, Quality Control, unveil the 50 year anniversary plaque.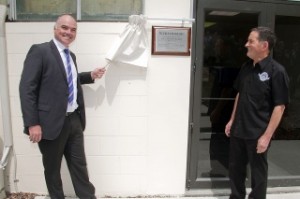 Patience and Nicholson is a proud Canterbury manufacturer going from strength to strength.
Employing a 120-strong local workforce, the company first opened its factory in November 1962, with the aim to manufacture a small range of jobber drills for the New Zealand market.
Half a century later, the plant produces more than 60,000 drill bits every day and its brands Evacut, P&N and Sutton are market leaders in the New Zealand, Australia, South Pacific and several South East Asian markets.
General manager Kevin Donovan says significant growth has occurred since 1994, when it was purchased by Australian Sutton Tools, one of the largest family-owned tool-cutting companies in the world.
The heavy investment that came with the acquisition allowed the New Zealand business to transform into a modern, efficient facility which was able to in turn acquire its own import company in 2000.
Mr Donovan says the company has had to overcome its fair share of adversity over the years, with several ownership changes, margin reduction, the introduction of a new brand and various recessionary periods.
"Despite difficult market conditions the company's future looks bright, with brand development, new concept machines and environmentally friendly oil recovery presses all on the horizon," he says.
Plans for a modern, new plant are also being considered- although the building sustained only superficial damage in the Christchurch earthquake, bringing it back up to building standards will cost more than $400,000.
Mr Donovan says the way staff, and members of the company's own engineering team were able to react quickly and get strengthening work done within days, almost certainly saved the factory from closure altogether.
"It has been an unsettling time for staff, the 'can do, will do' culture has been a credit to them all, many of whom are still dealing with the stresses of personal and family life disruptions."
Mr Donovan says reaching the 50 year milestone is a great achievement for any business.